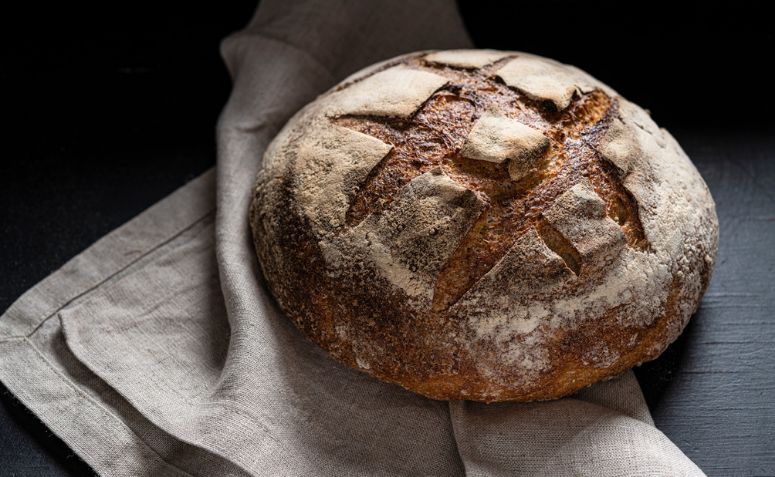 The natural fermentation bread transports us to the history of our ancestors, who marked the time. Millennia ago, the Egyptians created the shape of the bread we know today: made basically with water and flour, in addition to yeast, the natural yeast. We have selected the main benefits of this type of bread, with incredible recipes for you to test at home!
Continue after the announcement
Benefits of natural fermentation bread
Do you know the difference between bread that is made with natural fermentation and industrial fermentation? Although similar, the British newspaper, The Guardian, pointed out that the former is more digestible than conventional bread and more nutritious. Now check out the benefits:
It has lower glycemic index: « Acids slow the rate at which glucose is released into the bloodstream and decrease the glycemic index of bread (GI) so that they do not cause undesirable insulin peaks, » according to The Guardian. Thus, natural fermentation is a better alternative for diabetics because it has lower glycemic index.
It is less likely to generate food intolerance: The Guardian's article pointed out that the acids present in natural fermentation breads make flour gluten more digestible, making the possibility of food intolerance more difficult.
Better texture and taste: According to studies, sourdough, a natural yeast, has a number of effects, as it is able to bring better firmness, texture and taste to bread thanks to the acid-lactic bacteria, and the yeasts naturally present in the fermented dough.
Longer aging: These studies show that there is greater resistance to microbial deterioration – interfering with slower aging of the bread by natural fermentation.
More nutritious than conventional bread: an article in Food Microbiology magazine showed that natural fermentation influences the improvement of properties and availability of dietary fiber, and phytochemicals. In addition, it can increase the absorption of minerals, with the ability to produce new nutrients.
It has antioxidants: studies show that lactic acid bacteria have the ability to release antioxidants during fermentation.
Collaborates for digestion: the prebiotics of fermented dough and the properties of probiotics make the consumption of this type of bread help to improve intestinal health, as a Drug Discovery Today magazine article approaches.
Even if it is more laborious, this type of bread pays off because of the benefits and connects you to an ancient tradition of fermentation. See now 10 recipes for you to make today!
10 recipes on how to make natural fermentation bread
From the simple to the more incremental, we have separated some recipes that will guide you when preparing warm and delicious breads.
1. Simple natural fermentation bread
Simplified recipe, for you who are starting to make natural fermentation breads at home. The flour used is the supermarket type 1. Remember that flour interferes a lot with the final texture of the bread, so keep an eye out!
2. Natural fermentation bread with white and wholemeal flour
This preparation mixes two types of flour: white and wholemeal, which are essential for the result and taste. In the video, you check the details and learn how to shape the bread.
3. Bread with natural fermentation
Continue after the announcement
Option of bread made with natural fermentation, which is of French origin, called Pain de Mie. Follow the step by step and all the tips!
4. Wholemeal bread with natural fermentation
This wholemeal bread has as a secret the oat flakes, responsible for providing more moisture and softness to the bread ─ which prevents it from getting hard as the days go by.
5. Natural fermentation bread with levain
It takes nothing more than the French translation for natural fermentation. Here, you get a recipe for rustic bread, which looks beautiful and tasty!
6. Rose bread from natural fermentation
Raiza Costa, from Dulce Delight Brasil, is known for her dishes with their authentic touch, and in this recipe it couldn't be different! How about a natural fermented pink bread with beet juice? It's amazing!
7. Olive bread with natural fermentation
A recipe adapted from the book « Tartine Bread » by chef confectioner Chad Robertson. In this version of the Baker's Apartment channel, the bread is increased with olives and fresh rosemary.
8. Nut Bread with natural fermentation
Continue after the announcement
Chef Mancuzo teaches in his channel the recipe for a nut bread, made with natural fermentation that is amazing, crispy and full of flavor!
9. Corn bread with natural fermentation
Now, a corn bread, cornmeal, that becomes divine! With a wonderful color and perfect texture, it's impossible to resist.
10. Chocolate bread with natural fermentation
Combining the exceptional taste of chocolate with the unmistakable taste of long-fermented bread is what this recipe proposes, which uses chocolate powder to accomplish the feat.
Who there doesn't love having their house invaded by the smell of warm bread? If you are a fan of this unique sensation, be sure to check out the banana bread recipes, the typical banana bread, which is irresistible.