Learn how to make the famous Passion Fruit Truffled Egg. This egg is a chocolate shell where a passion fruit filling is in the middle of the shell, a stuffed shell. Every day people are buying more artisanal eggs, this market is growing every Easter, truffled eggs are in this wave, the Truffled passion fruit egg is one of the best sellers.
Today we are going to teach you how to make these houses for you to earn a lot from this shell.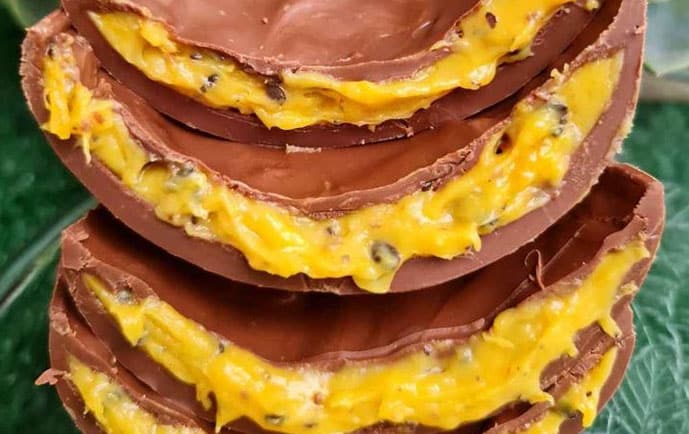 Recipe: Passion fruit truffled egg
Filling ingredients:
500 grams of white chocolate
1 Box of sour cream
1 tablespoon of passion fruit ice cream powder
1 passion fruit
How to prepare the filling:
Melt the chocolate with the cream, mix well until everything melts.
Add the powder for ice cream and mix some more.
Beat the passion fruit in a blender and mix in the mixture
Ready, take it to chill while making the egg shells
How to make the shell of the truffled passion fruit egg:
Ingredients
• 1 kilo of fractionated chocolate
• 1 250g Eggs Shape
• Lead wrapping paper
• Sheets of paper with Easter theme, ribbon and label
Method of preparation:
1. Melt the chocolate and apply the first layer to the pan.
2. Take the refrigerator to dry for 3 minutes.
3. Remove from the refrigerator and place the filling without leading to the edge and then cover with another layer of chocolate.
4. Take the refrigerator to finish crystallizing.
5. Pack your way, using your creativity.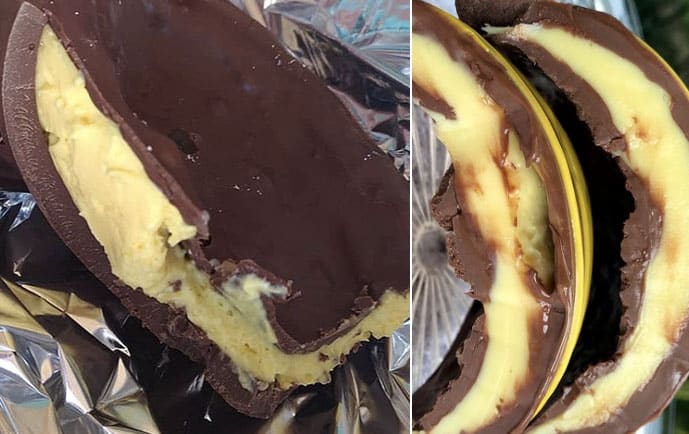 Approximate yield: 8 units
This egg is quite successful. I suggest that you put the truffled passion fruit egg on your Easter menu. If you want to make other types of Easter eggs, here on the website we have several Easter recipes, including the famous prestigious Easter egg.
The shelf life of stuffed eggs is 3 days out of the refrigerator. If you choose to store in the refrigerator, the shelf life is 5 to 6 days, the ideal is to remove it from the refrigerator 30/40 minutes before consumption, storing in the refrigerator the peels will retain moisture.