As easy as this recipe is to prepare, many people still wonder which cornmeal to use to make cake, as there are several different brands.
A recipe that goes well at any time of day, reminds us of our childhood, is super light and combines with many different ingredients. Your mouth is full of water, isn't it?
So, check out just a few tips to make the recipe correctly and surprise everyone!
After all, which cornmeal to use to make cake without making mistakes?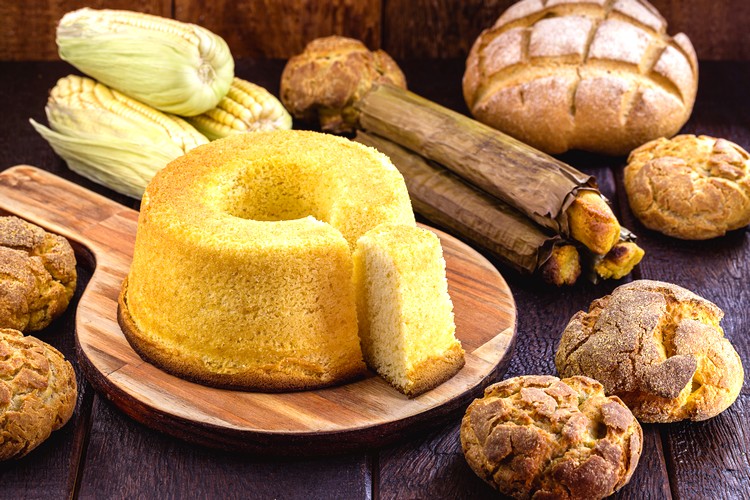 The best and most suitable cornmeal to use in cake recipes is the mimoso cornmeal. This is because it is thinner and more malleable when mixing with the rest of the ingredients.
Because of that, he leaves any fluffy cake. Plus, you won't run the risk of having a lumpy dough or air bubbles on the surface after baking. 😉
Therefore, always prefer to use this one, even because thick cornmeal will not give the expected result, especially if you really want to follow the traditional recipe.
I say this because it is possible to make a cake with the thickest cornmeal, but then you will have a heavier and less aerated cake. In fact, it's another type of recipe.
What is the difference between cornmeal and precooked cornmeal?
It's important to talk about this because I've seen many people wanting to use pre-cooked cornmeal in cake recipes to differentiate the flavor. As we have already seen, the mimoso type is thinner and prepared to bring delicacy to cake recipes.
On the other hand, pre-cooked cornmeal – also known as pre-cooked semolina – is very suitable for making porridge, polenta, biscuits, snacks and breakfast cereal.
This is because it is much thicker, difficult to incorporate with other ingredients and does not give the lightness that the famous cornmeal cake should have. Therefore, this cornmeal goes very well to speed up the preparation of some dishes, such as Italian polenta, for example.
What types of cornmeal and how to use each one
Well, so far we've seen about cornmeal and coarse cornmeal, but did you know that there are many other types of cornmeal? And that each one is suitable for different preparations? It is precisely this diversity that leaves people in doubt.
Thus, I can list here at least 4 other types, in addition to the mimoso and pre-cooked, let's get to them.
Wholemeal cornmeal: product made by hand, can be used for healthy cakes and sweets.
corn semolina: this would be thick cornmeal, it goes well in some recipes for cakes, cookies and, in some cases, beer recipes.
Medium cornmeal: because it absorbs water better and faster, this cornmeal is used for breads, muffins, biscuits and for breading.
white corn flour: very fine white flour is indicated for breads, desserts, breads and some recipes for specific cakes.
Whenever someone asks me if it's not possible to use other types of cornmeal in traditional recipes, I say yes, it's possible. However, the ideal is the treat for cakes, as the result will be better than any other cornmeal.
2 tips for making the perfect cornmeal cake
Because it is a simple preparation, most people fail to follow the correct steps of the recipe, end up exaggerating here or missing there, that is, they play with luck, but all this affects the result of the cake. In this sense, I separated 2 essential tips that make all the difference. Check it out!
1. measure each ingredient exactly
The first step to having a perfect cornmeal cake is to measure each ingredient as the recipe dictates. Make sure to separate and, if possible, weigh each one.
It may seem silly a few grams here and there, the famous "measure in the eye", but getting the quantities wrong is the ideal recipe for an unbalanced cake, which may wither or not grow as much as it should. 😉
Also, leave everything at room temperature, remove milk and eggs at least 30 minutes in advance, and if you use butter, remove at least 40 minutes before making.
2. The mixture of ingredients must be well worked
Every ingredient should be perfectly incorporated into the recipe, but dry ones need extra attention.
In this case, sift the flour and cornmeal together, as in addition to making it easier to mix, it helps a lot to make the cornmeal mix perfectly with the flour, leaving no visible lumps after roasting.
10 ideas to differentiate your cornmeal cake
Creamy cornmeal cake with cheese.
Cornmeal cake made with condensed milk.
Cornmeal cake with fennel and guava paste.
cornmeal cake without milk.
Cornmeal cake with lemon zest.
Cornmeal cake with cottage cheese.
Cornmeal cake with coconut milk and coconut flakes.
Cornmeal cake with chocolate coating.
Commeal cake with orange.
Cornmeal cake with yogurt.
Regardless of the recipe chosen, the important thing is to use the right cornmeal for an incomparable cake. And if you want to know more tricks and preparation ideas, I highly recommend you to check out the Professional Homemade Cakes Course.
It has different step-by-step recipes, methods of preparation, professional techniques and tips that can help you build your own business in the area. So, it's worth checking it out. 😉
I really hope you enjoyed my tips. Take the opportunity to share on your social networks and inspire others. To the next!