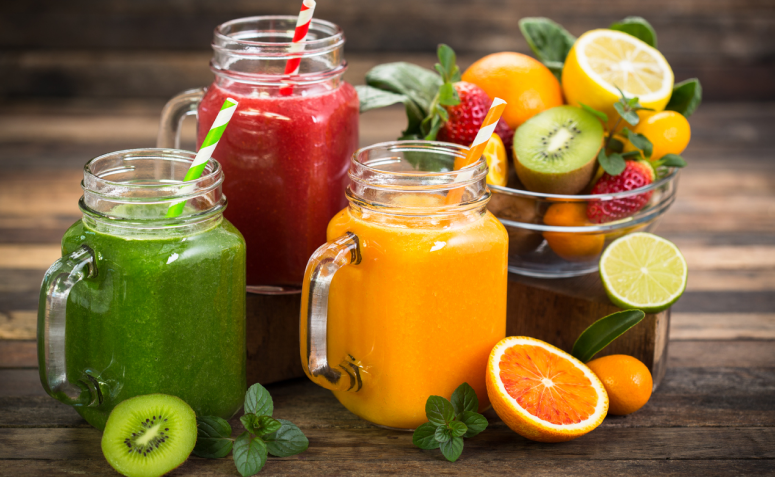 How about nourishing yourself through a delicious drink? For this, just follow these recipes for fruit vitamins, there are several options such as banana vitamin, apple, strawberry. They're easy to make, rich in nutrients, and a great alternative to avoid waste and not throw anything away. Find your favorite combination!
1. Apple Vitamin
Ingredients
2 cups cold milk
2 chopped small apples without seeds
½ cup sugar
Directions
In a blender, place the cold milk, chopped apples and sugar;
Blend until smooth;
Taste afterwards.
2. Banana Vitamin with Chocolate
Ingredients
3 ripe bananas
200 ml milk
3 tablespoons cocoa powder or chocolate drink mix
1 or 2 tablespoons sugar (optional)
3 or 4 ice cubes
Directions
Peel the bananas, chop and place in a blender;
Add the milk, cocoa powder, sugar and ice;
Beat until the vitamin is smooth;
Serve in 2 glasses and it is ready.
3. Passionfruit Vitamin
Ingredients
1 cup milk
1 small or medium passion fruit pulp
2 tablespoons powdered milk
2 tablespoons sugar
Directions
Insert all ingredients into blender;
Blend for approximately 5 minutes;
Transfer to a glass passing through a sieve to eliminate the seeds;
Drink then.
4. Strawberry Vitamin
Ingredients
1 small pot of plain yogurt
6 chopped strawberries
½ cup chilled skim milk
2 tablespoons sugar
3 tablespoons oatmeal
Ice to taste
Directions
In a blender, place the yogurt, strawberries, skim milk, sugar, oats and ice;
Grind until the vitamin is uniform in texture;
Delight yourself.
5. Mango Vitamin
Ingredients
Pulp of 1 mango
200 ml milk
2 tablespoons oatmeal
1 tablespoon honey
Directions
Place the mango pulp in a blender;
Add the milk, oats and honey;
Whisk until the liquid is smooth;
Transfer to a glass and savor.
6. Red fruit vitamin
Ingredients
1 cup water
Frozen strawberry to taste
Frozen blackberry to taste
Frozen raspberries to taste
Frozen blueberry to taste
1 frozen banana
Directions
Pour the water into the blender;
Insert the frozen fruit;
Crush until the fruits dissolve;
Now just serve and enjoy.
7. Vitamin of banana, apple with oatmeal
Ingredients
300 ml milk
1 tablespoon honey
1 sliced plantain
1 apple cut in peel
2 tablespoons oatmeal
1 tablespoon quinoa
1 tablespoon hydrated golden flaxseed
Directions
Start by placing the milk and honey in a blender;
Add the banana, apple, oatmeal, quinoa, and hydrated golden flaxseed;
Whisk until smooth;
Taste.
8. Banana Vitamin with peanut butter
Ingredients
1 cup milk
1 chopped apple
1 chopped banana
3 tablespoons roasted peanut flour or peanut paste
Honey to taste
Directions
Insert the milk, apple, banana and peanut flour into a blender;
If you wish the vitamin sweeter, add honey;
Grind until uniform;
Serve afterwards.
9. Papaya Vitamin with Pear
Ingredients
1 chopped papaya
2 chopped pears
2 tablespoons condensed milk, sugar, or sweetener
1 tablespoon oatmeal
500 ml chilled milk
Directions
Add the papaya and pears to the blender;
Add the condensed milk, oats and cold milk;
Beat for 1 minute;
Pour into a bottle and share with the family.
10. Banana Vitamin with Avocado
Ingredients
1 tablespoon avocado
½ unit banana
2 chopped slices of apple with peel
1 tablespoon honey
1 tablespoon oat bran
1 tablespoon quinoa flakes
Chia seeds and flaxseeds to taste
300 ml oat milk or other vegetable milk
Directions
Place all ingredients in a blender;
Blend until the vitamin is smooth;
Taste afterwards. If left over, store in refrigerator for up to 3 hours.
Now it's just a matter of figuring out which fruit vitamin suits your needs. Some are great for exercising, others are designed to help you gain weight. And to stay refreshed with great taste, check out these recipes for the 10 healthiest smoothies of all time.