Special celebrations call for special recipes and, to surprise your father, the best way is to make a cake for father's day simply unforgettable.
This is one of those occasions that you can take advantage of to think about selling as well, as the demand for last minute themed recipes and orders increases a lot.
To help you, I have separated a complete special recipe + 10 options to differentiate in decoration and filling. Check out why the content is amazing!
Complete Father's Day Cake Recipe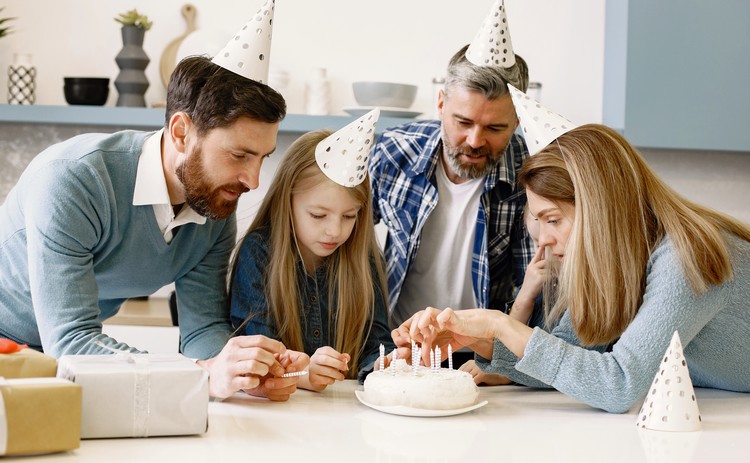 dough ingredients
4 eggs
1 cup (tea) of whole milk
1 cup (tea) of oil
½ tablespoon of vanilla essence
2 cups (tea) of sugar
1 cup (tea) of unsweetened coffee
2 cups (tea) of wheat flour
1 cup (tea) of cocoa powder 50%
1 pinch of salt
½ tablespoon of baking powder
½ tablespoon of baking soda
stuffing ingredients
500g of noble semisweet chocolate
1 box of cream
50ml of unsweetened coffee
syrup ingredients
1 cup (tea) of water
½ cup (tea) of unsweetened coffee
5 tablespoons of sugar
Step by step preparation of the dough and filling
I chose this recipe from Coffee cake and chocolate because you're unlikely to find a dad out there who doesn't like coffee, is that right? So, you can bet on the combination that has no mistake. Follow the step-by-step right!
1. Mixing the ingredients
For this recipe I suggest mixing all the ingredients by hand, as it brings more softness to the cake. Then, in a large bowl, place the eggs, milk, oil, vanilla essence, sugar and coffee from warm to cold, so as not to cook the eggs.
Now, with a fuê, spatula or wooden spoon, mix everything well until it turns into a consistent and homogeneous cream. Then sift the wheat flour and cocoa powder over the mixture, adding the salt afterwards.
Hand in the dough again, stirring a lot until it becomes a smooth and creamy dough. You know you're at the point when you can't see the flour anymore. Finally, sprinkle the yeast and baking soda, give it a light mix and that's it.
2. Pay attention to the oven temperature
This is the most important moment, so pay attention. Transfer the mixture to a tall, round pan, greased and sprinkled with powdered chocolate. Then just take it in a preheated oven at 180° for 40 to 45 minutes.
3. Take care of the creamy filling and syrup
The filling is a ganache, but with a special coffee touch. To do this, melt the semisweet chocolate in the microwave or bain-marie. Add the cream and coffee, mixing until creamy and smooth. Cover with plastic-film and set aside for 2 hours for consistency.
For the syrup, put the water in a mug, add the coffee and sugar. Turn on medium heat and stir until boiling, reserving then until completely cool.
4. How to correctly fill and assemble
First, unmold the cake dough, cut the top just so it stays tight.
After that, divide the cake into three equal parts. Return the first slice to the mold, wet the surface with the syrup, spread about 4 heaped scoops of the ganache and cover with the middle slice.
Repeat the process with the syrup, filling and slice the cake until the end. Cover with plastic wrap and place the cake in the freezer for 30 minutes. Then, unmold the cake again and spread a creamier ganache all over the surface and sides of your cake.
Finally, sprinkle cocoa powder all over the surface, as despite being simple, it adds an even more beautiful touch to the recipe. Also, since there is a lot of coffee on the cake, finish by centering some coffee beans, it looks beautiful.
EXTRA TIP: for the finishing ganache, use 200g of semisweet chocolate and ½ box of cream.
10 ideas for making amazing cakes for Father's Day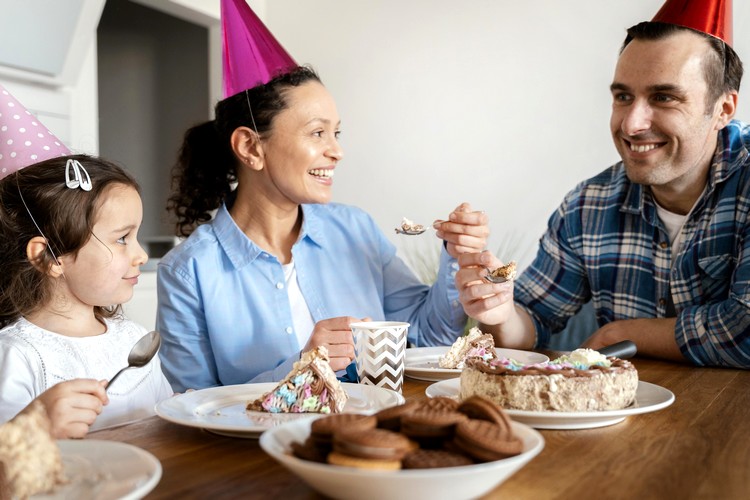 Well, so far I've already shown a complete recipe, but there's always room to differentiate even more, isn't it?
Thus, your imagination rules here, but you can choose whipped cream dyed in different colors, use different icing tips or go for the American paste.
I've seen people create recipes with themes of tie, football, suits, mustaches, edible beer cans and so on, the important thing is to give personality to the cake made especially for your father.
So, I've put together a short list with some other options that might surprise even those more traditional parents, get this!
Checkered vanilla decoration with chocolate.
Nest milk cake with chocolate.
Golf themed creamy lemon flavor.
black forest cake in social shirt made with American briefcase.
Chocolate cake with a touch of whiskey.
Flavored with black beer.
Nicely married cake in the shape of a mustache.
Creamy passion fruit cake with a bar theme.
Superman themed flavor (Super Dad)
Star Wars themed brownie cake.
The important thing at this moment is not to stop taking risks with the recipes, because gratitude is certainly worth much more than all the work, isn't it? And if you are thinking about selling, an alternative is to follow the main trends.
By the way, if you want to specialize even more in the production of homemade cakes, get to know the Homemade Cakes Course, which I always recommend here.
I really hope you enjoyed my tips, don't forget to share so that other people's Father's Day can also be very special. To the next!