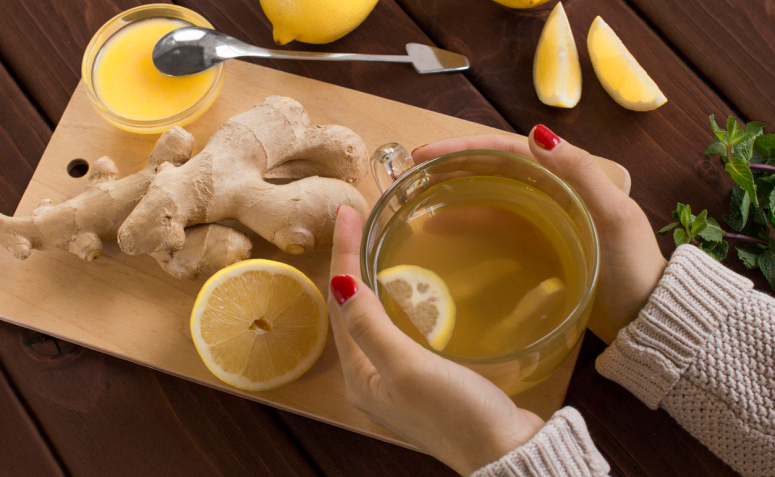 Including natural foods and drinks in your routine is a great way to keep your health up. The tea for immunity is indicated for this situation and can be taken at any time of the year. The nutritionist Aline Campanelli (CRN 8-6997) talks that « in addition to food, we can count on an extra forcinha in the fight against disease causers: the teas. » Check out her suggestions:
1. Ginger tea
Ingredients
5 cm ginger
1 and ½ cup water
Directions
Cut the ginger into thin slices;
Pour the water into a kettle;
Place the ginger slices in it;
Bring to a boil and simmer for 5 minutes;
Turn off the heat, cover and let the infusion rest for 2 minutes;
Sweeten if desired and serve.
The nutri Aline says that as it is rich in gingerol, ginger tea is great in fighting fungi, bacteria and viruses. As for the contraindications, the drink is not recommended for people who take anticoagulant medications, because it delays blood clotting and for those who use medicines to control diabetes, by decreasing the amount of glucose in the blood.
2. Guaco tea
Ingredients
1 tablespoon chopped guaco leaves
1/2 l water
Directions
Place the guaco leaves in the water;
Bring to a boil;
Turn off the heat and leave to infuse for about 5 minutes;
Strain, sweeten if desired, and serve.
According to the nutritionist, guaco tea is a great ally in fighting colds and flu. Besides being an anti-inflammatory, antibacterial and antiallergic natural. The drink is contraindicated for people who have liver problems, lactating, pregnant women and children under 2 years.
3. Lemon tea
Ingredients
2 lemons
1 cup boiling water
Directions
Squeeze the lemons into the boiling water;
Cover and leave to infuse for 2 to 5 minutes;
Sweeten if desired and enjoy.
Lemon, like other citrus fruits, is rich in vitamin C. One of the main benefits of this tea for immunity highlighted by Aline is that « vitamin C can decrease the duration of cold symptoms in addition to boosting immunity. »
4. Turmeric tea
Ingredients
2 teaspoons turmeric
1 l water
Directions
Boil the water;
Add the turmeric;
If desired, add lemon or grated ginger;
Leave to infuse for 5 to 10 minutes;
Strain and sweeten with honey.
Aline explains that « due to the presence of curcumin, turmeric can improve immune response and decrease the risk of disease. » However, while it helps boost immunity, it should be avoided by people who have a sensitivity to curcumin, use anticoagulant medications, or have blocked bile ducts.
5. Garlic tea
Ingredients
250 ml boiling water
2 to 3 cloves of garlic
Directions
Crush the garlic cloves and place in a cup;
Pour the water over the top and cover for 5 to 10 minutes;
Strain, and, if desired, add honey and lemon to mask the taste.
Garlic tea is rich in selenium, allicin and zinc, essential minerals for the immune system. Although beneficial to health, it is not recommended for infants and children under three years of age.
With tea for immunity it is easier to protect yourself against colds, flu and other opportunistic diseases. If you like these drinks, also check out the article about fennel tea.