There's no one who doesn't like it! Today we are going to teach you the best Chicken Pie recipe with Catupiry. Do you know that dough that melts in your mouth? And that's the one you'll learn today.
This recipe for chicken pie with catupity, we learned from a lady who sells it at the fair, this recipe belongs to the family, so there's no mistake.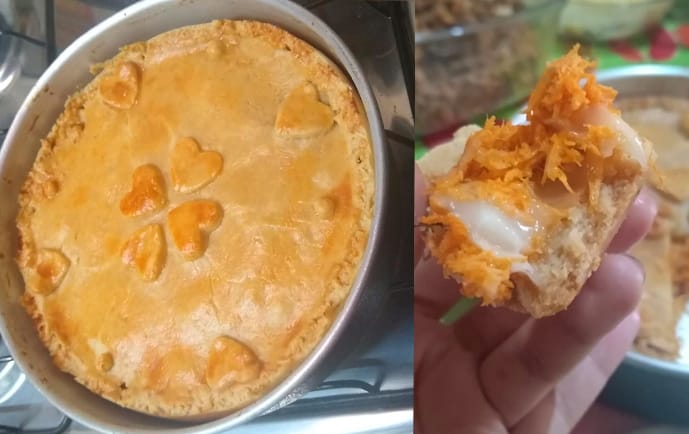 Chicken Pie Recipe with Catupiry
Pasta Ingredient:
4 cups (tea) of wheat flour
1 tablespoon of salt
150 grams of butter
2 eggs
10 tablespoons of ice water (approximately)
Filling Ingredients
4 tablespoons of oil
2 tablespoons of tomato paste
1 chopped onion
1/2 can of drained green corn
1 chopped tomato
3 cups (tea) of cooked and shredded chicken
1 cube of chicken broth
1/2 can of drained peas
1 teaspoon of wheat flour
1/2 cup (tea) of water
Chopped salt and parsley to taste
1 cup (tea) of Catupiry®
Preparation mode:
First, let's make the chicken pie dough with catupiry.
Thus, this dough is very simple, put all the ingredients in a bowl, first mix with the help of a spoon or spatula, then mix with your hands, until it is well joined, wrap in plastic wrap and refrigerate for 30 minutes.
For the filling, in a pan, heat the oil over medium heat and brown the onion. Then add the tomatoes, stock, extract and saute for 2 minutes.
Add the shredded chicken, corn, peas and saute for 3 minutes.
Soon after, place the flour dissolved in water, salt and parsley, stirring until it thickens. book Book.
Assembling the Pie:
Now take half of the dough you left in the fridge and roll it out with the help of a rolling pin or a bottle, don't open it too thin.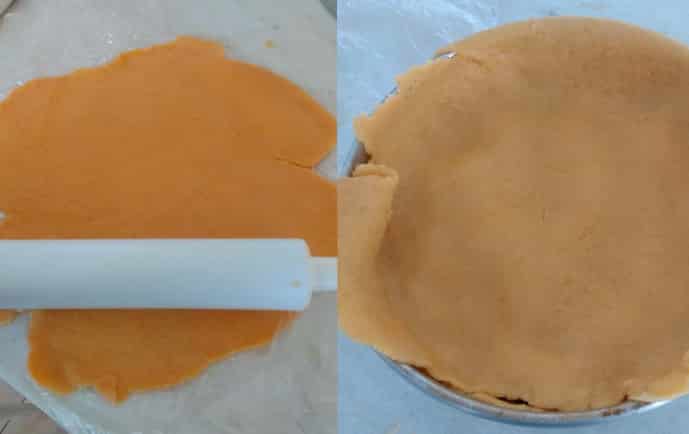 Finally, put the dough in a shape here I used one 24cm in diameter. If you want to unmold this recipe, the ideal is to use a form with a removable bottom.
Now put the dough in the pan, and then put the filling: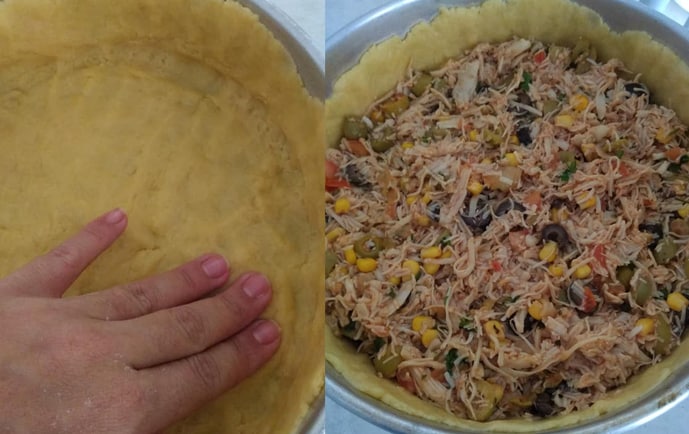 Right after, put the catupiry, if you don't want to use it ready, here we already teach you a delicious recipe for homemade catupiry.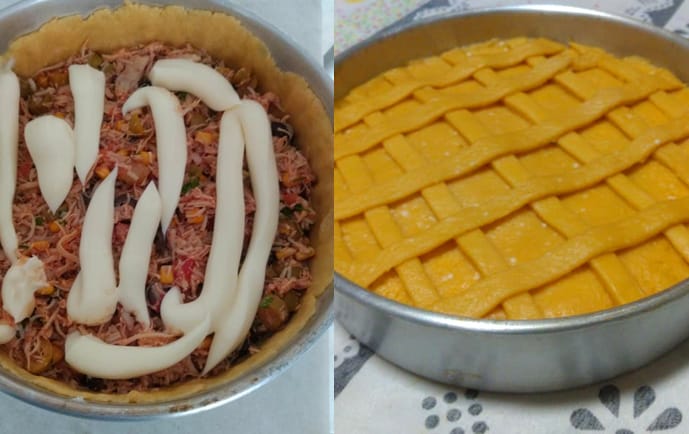 Spread the filling and the Catupiry® on top.
Cover with remaining dough in strips, decorating. Now, brush the egg on top of the dough.
Finally, take it to bake in a preheated 180 degree oven, it takes about 30 minutes to bake. Unmold warm and serve.
Another option is to bake the chicken pot pie with catupiry in disposable lunchboxes, that way you can even sell it.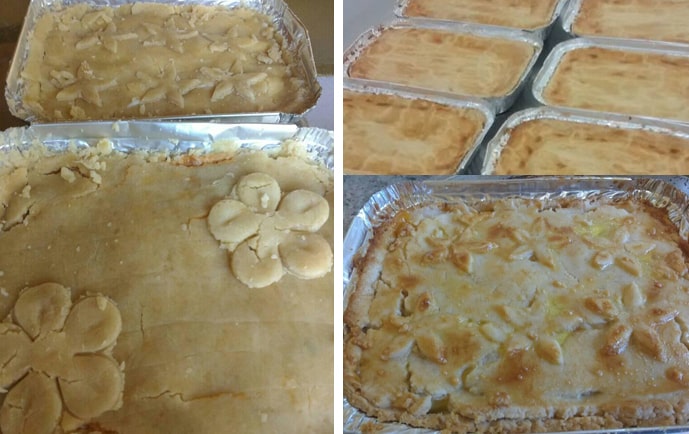 This recipe is valid for 7 days.