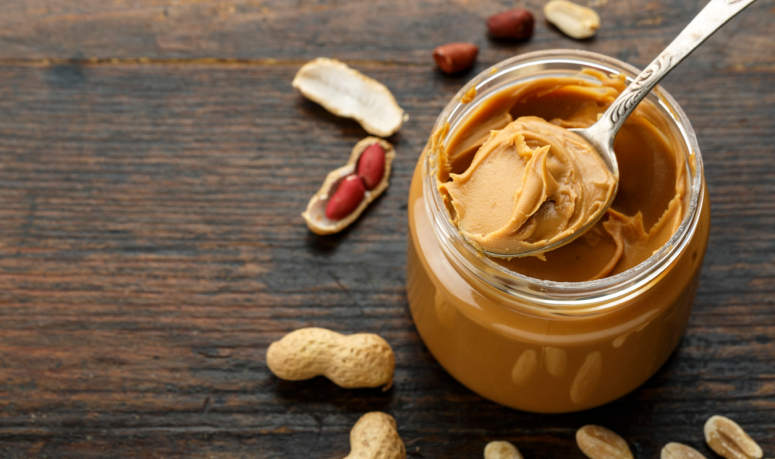 By Thais Regina

On 22.07.21
Saving is all good, right? So, how about learning how to make peanut butter at home? This is a super versatile food and combines with several others, such as pancakes, cakes and toast. Check out how to prepare and see tips on delicious recipes that use this ingredient.
How to make peanut butter
Ingredients
2 cups peanuts, roasted and peeled
Refined sugar, brown sugar or honey (optional)
How to make
Place the peanuts in a blender and use the pulse function;
When the propeller starts to become loose, pause the blender, stir the peanuts a bit, then pulse again;
Continue beating and pausing as the propeller becomes loose. Do this until a paste begins to form;
If smoke begins to come out of the blender, pause and wait one to two minutes to beat again;
If necessary, stir the mixture occasionally;
The correct point is when it becomes more doughy, resembling a banana vitamin. This takes about five minutes, depending on the model of blender;
If you want to sweeten, add two tablespoons of caster sugar, brown sugar, or honey for each cup of peanuts used in the recipe.
See how practical it is? In less than five minutes you prepare your own peanut paste, without preservatives, healthy and much cheaper than the options that exist to buy.
Recipes with peanut butter
Now that you've learned how to make peanut butter at home and will save on everyday living, it's time to find out how many amazing recipes you can try using this ingredient.
Ice cream fit peanut (the paste and peanut butter are the same thing)
To start, how about a tip for a delicious ice cream, which does not take refined sugar, is super-easy to prepare and has only two ingredients? Besides being a tasty dessert, this recipe is also an option to use as a pre-workout, because of the potassium of the banana and the good fats of the peanut paste.
Peanut Smoothie
In the mood for a super convenient snack? Then you'll love this peanut butter smoothie. It is lowcarb, is ready in a minute and goes very well at breakfast or snack. In addition, it is ideal for those moments that hits the craving for a sweet drink.
Milkshake fit peanut
If you are looking for alternatives for your post-workout, this peanut milkshake fit is a great choice! Because it contains whey in its preparation, it contains high amounts of protein, ideal for those who exercise and want to give a boost after training. Super-fast to prepare and delicious!
Cookies banana, oatmeal and peanut butter
Have no idea what to eat in the afternoon snack? With banana, peanut butter, cinnamon and oatmeal, you can prepare delicious cookies. Practical and fast, they go to the oven from 10 to 15 minutes. A suggestion is to make several and divide for the week.
Banana pancake with peanut butter
Quick and easy recipe for breakfast? We've got some too! If you're one of those people who get sick of eating the same thing over and over again, you need to try this pancake with only three ingredients. But, don't be fooled: despite the few ingredients, it's delicious and very nutritious!
Cake fit of peanut butter
To close, how about venturing out and prepare a tasty cake fit? The peanut paste, here, gives a special flavor to the cake, which also takes lighter ingredients, designed for those who want a healthy diet, but without giving up eating what they like.
This is a delicious option and that combines with many recipes incredible, is not it? And the coolest thing is that making it at home is much cheaper than buying it. Come and learn some delicious recipes with peanut milk.