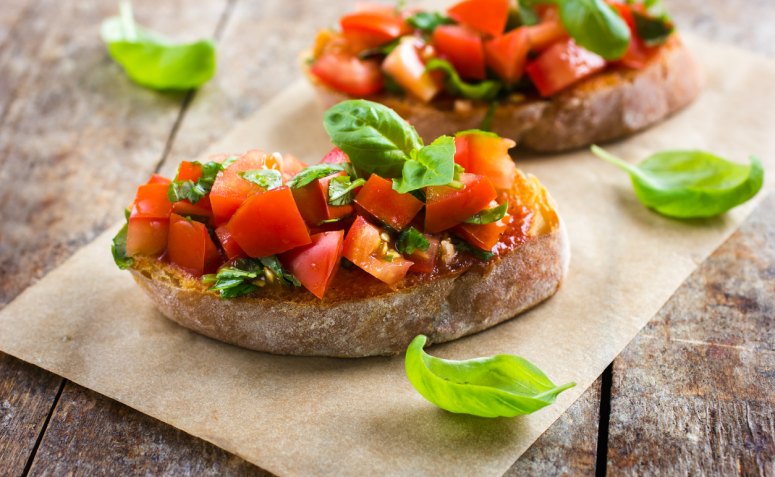 By Gabriela Naomi

On 22.05.21
Whether it's a romantic dinner or some special celebration, the occasion deserves a full menu. So, nothing better than surprising your guests with delicious appetizers for dinner, right? After all, who doesn't like a good appetizer while waiting for the main course? Thus, check out, below, delicious recipes for dinner entrees:
1. caprese skewers
Skewer ingredients
400 g fresh cheese
14 cherry tomatoes
14 basil leaves
Sauce ingredients
½ cup olive oil
½ cup walnuts
½ cup grated parmesan cheese
½ cup basil
Dehydrated garlic to taste
Salt to taste
Black pepper to taste
Directions
Cut all tomatoes in half and set aside;
Next, cut the cheese into cubes and set aside;
With wooden sticks, assemble the skewers, interspersing a piece of tomato, a basil leaf and a piece of cheese. Do this until the whole skewer is filled and set aside;
In a bowl, put the olive oil, walnuts, cheese, basil, salt, pepper and macerate everything very well with a mixer;
Transfer the pesto sauce to another bowl, serve with the skewers, and bon appetite!
2. Crispy vegetable sticks
Ingredients
2 medium carrots sliced into sticks
1 potato, peeled and sliced into sticks
2 yams, peeled and sliced into sticks
1 sweet potato, peeled and sliced into sticks
1 teaspoon dehydrated rosemary
3 tablespoons olive oil
Salt to taste
Pepper to taste
Directions
In a bowl, place all the vegetables;
Add the rosemary, olive oil, salt, pepper and mix well;
Transfer the vegetables to a baking sheet lined with parchment paper;
Cover with foil and bake in a preheated oven at 180 degrees for about 25 minutes;
After that time, remove the foil and bake for another 30 minutes, every 10 minutes turn the vegetables to roast evenly;
When nicely browned, it is ready to serve!
3. Shrimp cocktail
Ingredients of spicy yogurt sauce
1/2 cup plain yogurt
1/4 cup heavy cream
2 tablespoons white wine
1 teaspoon pepper sauce
Salt to taste
Black pepper to taste
Juice of 1 lemon
1 chopped bell pepper
2 tablespoons olive oil
Paprika to taste
1/2 cup cream cheese
Shrimp Ingredients
2 cups clean shrimp
Juice of ½ lemon
2 cloves garlic, minced
Salt to taste
Black pepper to taste
Paprika to taste
1 dash of olive oil
Chopped parsley to taste
Directions
For the sauce, in a bowl place the yogurt, heavy cream, wine, pimento sauce, salt, paprika, lemon juice, chopped pepper, olive oil and mix well;
Add the paprika, cream cheese, mix and refrigerate until preparing the shrimp;
Season the prawns with the lemon juice, garlic, salt, pepper and paprika;
With a wide-bottomed frying pan hot, put in the drizzle of olive oil and the prawns;
Brown both sides of the prawns, stirring occasionally so as not to burn;
To assemble, pour sauce into bowls, sprinkle parsley and place shrimp around the bowl;
Now just enjoy!
4. Zucchini bruschettas
Ingredients
1 baguette campagne or Italian
1 clove of garlic
Rosemary sprigs to taste
2 bay leaves
Olive oil to taste
Salt to taste
⅓ of diced zucchini
3 shiitake mushrooms in strips
1 clove garlic, sliced
Directions
Slice the baguette diagonally and rub a clove of garlic over all the pieces;
Add the rosemary, bay leaves, olive oil, pinch of salt and bake in a 180 degree oven for 15 minutes. Set aside;
In a frying pan with a drizzle of olive oil, put the zucchini, mushrooms, garlic, salt and saute everything until all ingredients are well browned;
Then turn off the fire and set aside;
On serving plate, place toasted bread pieces and zucchini on them;
Then, just enjoy this entrée for dinner!
5. Tapioca Dadinhos
Ingredients
500 ml whole milk
375 g grated curd cheese
250 g granulated tapioca
Salt to taste
Allspice to taste
Allspice
Zest of 1 Sicilian lemon
1 chopped allspice
Juice of ½ Sicilian lemon
3 tablespoons of cane molasses
Directions
In a saucepan, place the milk and bring to a boil;
Meanwhile, in a bowl place the cheese, tapioca, salt, and pepper and mix;
When the milk boils, pour into the vessel and stir continuously with a fuê;
After about 3 minutes stirring well, transfer the batter to an English cake pan lined with plastic wrap,
Cover the dough with more plastic wrap and refrigerate for at least 2 hours;
In a small bowl, place the lemon zest, pepper, lemon juice, molasses and mix together. Set aside;
Remove the dough from the refrigerator and cut into uniform-sized cubes;
Fry in hot oil until nicely browned;
Serve with the molasses sauce and enjoy this delicious treat!
6. Eggplant Antepasto
Ingredients
3 eggplants with peel
Water
1/2 cup olive oil
1 onion, chopped
3 cloves garlic, minced
1 chopped red pepper
1 chopped yellow bell pepper
⅓ cup chopped olives
½ cup white raisins
1 tablespoon oregano
1 teaspoon salt
Basil leaves to taste
Thyme leaves to taste
Black pepper to taste
3 tablespoons white vinegar
Directions
Wash the eggplants well, cut into small cubes, place in a bowl, cover with water and set aside;
In a pan, add a dash of olive oil and saute the onion and garlic;
Add the peppers, cook until soft, then add the eggplants without the water;
Mix well and cook until everything is very soft;
Add the olives, grapes, oregano, salt, basil, thyme, pepper, vinegar, remaining oil and stir;
Cook until liquids dry
Then, just serve as you prefer and it's done!
7. Figs with brie and honey
Ingredients
5 ripe figs
5 tablespoons honey
½ sliced brie cheese
Directions
Cut the figs in half and brush honey on all halves;
Arrange honeyed figs in airfryer basket and bake for about 10 minutes at 200 degrees;
After that time, place the brie slices on top of the figs and cook for 2 minutes;
Transfer to a plate, finish with a little honey and enjoy!
8. Roquefort and walnut palmier
Ingredients
100 g ricotta cheese
2 pieces of roquefort
1 packet of ready made puff pastry
Chopped walnuts to taste
Directions
In a bowl, mix the ricotta with the roquefort until smooth;
Open the puff pastry on a baking sheet and spread the cream over it;
Sprinkle the walnuts and roll each side of the pastry toward the center, so that the two ends meet;
Pack the dough in its own paper and place in the freezer for a few minutes;
Then cut 1 cm thick pieces and transfer to a baking sheet lined with parchment paper
Bake in a 180 degree oven until golden brown and done!
9. Vegan Caponata
Continued after the announcement
Ingredients
3 diced eggplants
5 tablespoons white vinegar
¼ cup olive oil
1 onion
½ red bell pepper, chopped
½ yellow pepper, chopped
½ chopped green pepper
1 clove garlic, minced
5 tablespoons soy sauce
½ cup hydrated raisins
½ cup olives
Directions
Place the eggplants in a bowl, add the vinegar and soak for 20 minutes;
Drain all the liquid from the eggplants, wash and dry them very well
Spread the eggplants on a greased baking sheet and bake on high heat for about 30 minutes or until thoroughly dry;
Meanwhile, in a frying pan put the olive oil and saute the onion with the peppers;
Add garlic, mix, add dried eggplant and soy sauce. Mix and saute for 4 minutes;
Turn off heat, add the raisins and olives;
Transfer to a bowl and it's ready to serve as you like!
10. Vegan cold cuts platter
Ingredients of dried tomato
4 tomatoes
½ cup of sugar
1 teaspoon salt
1 grated garlic clove
Chimichurri to taste
Oregano to taste
Olive oil to taste
Ingredients of smoked salmon
1 package of coarse salt
2 carrots with peel
1 cup soy sauce
1 cup water
Pickled capers to taste
1 teaspoon vinegar
Liquid smoke to taste
Smoked paprika to taste
Chopped nori seaweed to taste
Tofu cheese ingredients
1 firm tofu
1 tablespoon olive oil
Juice of 1 lemon
Salt to taste
Chimichurri to taste
1 clove garlic
¼ cup water
Chives to taste, chopped
Nutritional yeast to taste
Ingredients of yellow lupin cheese
1 cup of shelled lupin
Juice of 1 lemon
1 tablespoon vinegar
1 tablespoon white wine
1 tablespoon agar-agar
1 tablespoon olive oil
Nutritional yeast to taste
1 cup of water
Directions for the dried tomatoes
Cut the tomatoes in half and remove the pulp with the help of a knife;
Arrange the tomatoes on a baking-pan and put a little sugar-salt mixture on each of the halves;
Bake in a preheated oven at 180 degrees for about 1 hour;
Then turn the tomatoes over and return to the oven for another 20 minutes;
In a clean canning jar, place the roasted tomatoes, garlic, chimichurri, oregano, 2 tablespoons of the sugar-salt mixture, and complete the glass with olive oil;
Cover, shake glass to mix ingredients well and set aside.
How to prepare the salmon
In a small pan, put a little coarse salt, the carrots, and cover completely with more salt;
Bake in the oven at 200 degrees for about 1 hour;
Then remove all excess salt and slice the carrots very thinly;
Transfer to a lidded pot and add the rest of the ingredients;
Cover pot and let marinate for at least 24 hours.
How to prepare the tofu cheese
In a blender, add all ingredients and beat well until smooth;
Transfer the mixture to a piece of aluminum foil and roll to shape the cheese;
Close the sides tightly, rolling up the excess as if it were a bullet;
Leave the cheese in the refrigerator for 24 hours to firm up;
After this, unwrap the cheese carefully and rub the spring onion all over it;
Finish with some more seasoning and set aside.
How to prepare the yellow lupin cheese
In a blender, place all ingredients and beat until smooth;
Transfer mixture to a saucepan and cook, stirring constantly, for about 12 minutes;
When thickened, turn off the heat and place in a pot greased with olive oil;
Leave in the refrigerator for 30 minutes or until it is time to unmold;
Run a knife around the sides of the cheese, unmold on a plate and set aside.
Assembling the cold cuts board
On a board, place some dried tomatoes, the smoked salmon and the unmolded cheeses;
Decorate as you like, and add some fruits, nuts, and rolls to complement the flavors
Now just enjoy this amazing completely vegan dinner entree!
These delicious dinner entree recipes are sure to keep your guests satisfied. The best thing is that in addition to being tasty, these preparations are easy to make. So you can also enjoy the special evening. If you have not decided what the main course will be, check out these leek risotto recipes and be even more successful in the kitchen!