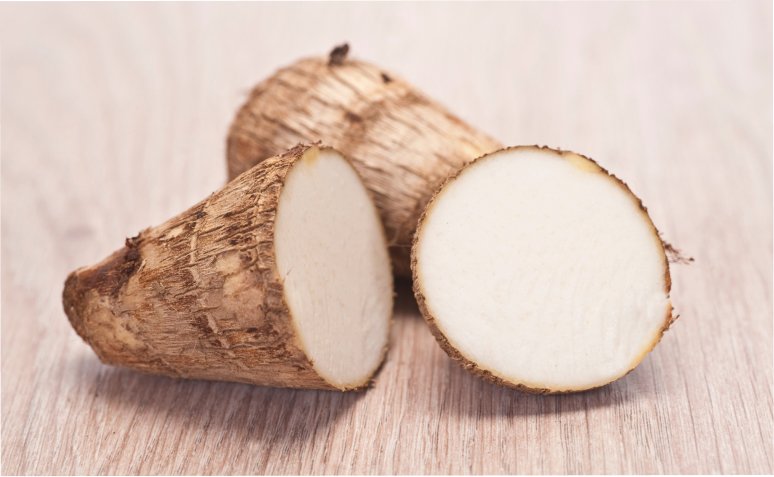 Yam is a tuber rich in benefits and can be consumed in different ways. How about including the food in your diet? Check out some amazing yam recipes to try without thinking twice:
1. Chips of yam
Ingredients
1 kg yam with peel
Corn oil to taste
Salt to taste
Directions
Peel the yams and make thin slices;
Put the oil in a frying pan;
When hot, fry the yam slices and drain on paper towels;
Season with salt and serve.
2. Yam dumpling
Ingredients
1 kg of peeled yam
2 eggs
Salt to taste
Chili pepper to taste
1/2 onion, minced
1/2 cup cornmeal
Oil for frying
Directions
Grate the yam;
Make room in the middle of the yam dough;
Add the eggs, salt, pepper and onion;
Stir until smooth;
Add the cornmeal little by little;
When the dough is thicker, make small balls with a spoon and fry in hot oil;
As soon as they are golden brown, remove from oil and enjoy!
3. Mashed yams
Ingredients
500 g peeled yam
2 tablespoons butter
150 ml milk
Salt to taste
Directions
Chop the yam and cook in a pot of water;
When the yam is soft, drain the water;
Add the butter, milk, and salt and mash with a mixer;
Now just enjoy this tasty yam recipe!
4. Cream of yam
Ingredients
4 peeled yams
1 l chicken stock
1 tablespoon lard
1/2 sausage, minced
1 onion, chopped
1 chopped cabbage leaf
1 small carrot, cooked and chopped
1 chopped and seeded black pepper
Directions
Cut the yam into cubes and place in a pot;
Pour the chicken stock over the top and cook over medium heat until the yam is very soft;
Allow to cool a little and blend in a blender. Set aside;
In another pan, melt the lard and fry the calabresa;
Add the onion and let it brown;
Add the yam cream, cabbage, carrot, and pepper;
Stir, let cook until the cream thickens. Then just serve!
5. Vegan yam cheese bread
Ingredients
4 tablespoons of sour cornstarch
1/4 teaspoon turmeric
1/4 teaspoon salt
4 tablespoons yam puree
4 teaspoons water
1 teaspoon olive oil
Directions
Mix all dry ingredients together;
Add the wet ingredients;
Stir until the batter is homogeneous;
Divide the dough into 8 small balls;
Place in skillet and place over low heat with double grill;
Cover, wait 10 minutes and it's ready!
6. Creamy yam curd
Ingredients
1 medium yam, cooked and diced
62.5 g tofu
60 ml water
3 tablespoons olive oil
1 clove garlic
1 teaspoon salt
Juice of ½ lemon
Directions
In a blender, beat the yam, tofu, water, olive oil, garlic and salt;
While blending, add the lemon juice;
After 4 minutes, turn off the blender;
Take the mixture to fire to thicken and is ready this recipe with yam!
7. Yam Bread with Herbs
Ingredients
1 cup grated raw yam
3 tablespoons coconut oil
1/2 teaspoon salt
2 teaspoons fine herbs
1 crushed garlic clove
3/4 cup sweet cornstarch
Directions
In a bowl, mix together the yam, coconut oil, salt, fine herbs and garlic;
Add the tapioca powder and stir until smooth;
Make small balls with the dough;
Place in a greased baking pan;
Bake in preheated oven at 200 degrees for about 30 to 40 minutes and you're done!
8. Bread fit yam
Ingredients
1 cup rice flour
1/2 cup sweet cornstarch
1/2 cup fine flaked oats
1 tablespoon dry baking powder
1/2 teaspoon xanthan gum
3/4 cup water
3 eggs
1/2 cup cooked and mashed yams
1 tablespoon brown sugar
1 teaspoon salt
Chia seeds to taste
Directions
In a bowl, mix the flour, the sprinkle, the oats, the yeast, the xanthan gum and set aside;
In a blender, place the water, eggs, yam, sugar, salt and beat until smooth;
Pour the liquid mixture into the bowl with dry ingredients;
Mix until dough is thick and uniform;
Transfer dough to a silicone baking pan;
Cover and wait about 60 minutes for the dough to rise;
Brush a little water over the dough and sprinkle chia seeds;
Bake in preheated oven at 180 degrees for about 45 to 50 minutes;
Remove from oven, allow to cool and unmold;
Cut and serve!
9. Danoninho of yam with strawberry
Continued after the announcement
Ingredients
6 tablespoons cooked yam
15 strawberries
Xylitol to taste
Lemon drops to taste
Directions
Put all the ingredients in a blender and beat;
Occasionally help blend with a spoon and beat until smooth;
Pour into a bowl;
Refrigerate and enjoy!
10. Yam chocolate ice cream
Ingredients
300 g boiled yam
2 ½ tablespoons 100% cocoa
5 tablespoons brown sugar
1 teaspoon vanilla essence
1/4 cup vegetable milk
1 carrot
Directions
In a blender, add the yams, cocoa powder, brown sugar, vanilla essence and vegetable milk;
Beat until a homogeneous cream is obtained;
Pour batter into silicone ice cube trays and place in freezer for 12 hours;
Then place the frozen pieces in a blender and pulse using the carrot as a punch;
Place in a jar and serve.
Did you like to know these recipes with yams? Now choose your favorite to test at home! Then, take the opportunity to know the benefits of yam tea.