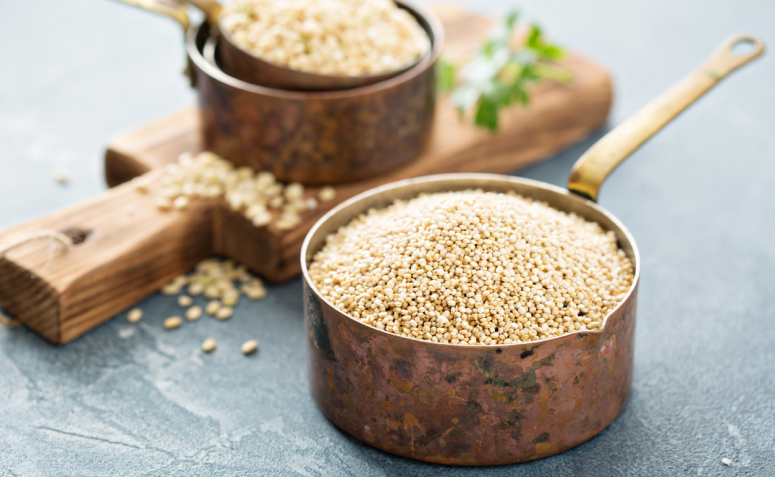 Quinoa is rich in nutrients and can be consumed in creative salads and other foods with a healthier twist. If you want to include it in your diet, now learn how to cook quinoa:
How to cook quinoa
Ingredients
1 cup quinoa beans
1 and ½ cup of water
Salt to taste
Black pepper to taste
How to make
Wash the quinoa under running water;
Place in a pan and lightly toast the seeds;
Turn off the heat and add the water;
Season with salt and pepper, and cover the pan;
Let cook for about 20 minutes;
Turn off the heat and leave the quinoa covered for another 10 minutes;
Stir with a fork and enjoy!
See how simple and easy it is to cook quinoa? You can also use other ingredients to season it, like lemon drops and olive oil.
Recipes with quinoa
Enjoy using cooked quinoa in other recipes. See what you can prepare with it:
Quinoa salad
After cooking the quinoa, mix in onions, tomatoes and other ingredients that will add a lot of flavor to the salad. It is very quick to make and great to serve for lunch or to accompany dinner.
Quinoa Burger
For those who want to try a vegetarian recipe, with few ingredients it is possible to make the quinoa burger. Just mix everything, mold, freeze and fry.
Quinoa Tabbouleh
Use a mix of quinoa and seasonings to add flavor. It's not much of a secret and your biggest challenge will be chopping the parsley and tomatoes into very fine pieces.
Quinoa Quibble low carb
Adapted version of the oven kebab that uses quinoa as one of the ingredients, so it is gluten-free and low carb. It is a practical recipe and easy to make, after all, just mix everything and bake.
Quinoa Risotto
Very simple to prepare, uses items easy to find and does not have many steps. Ideal for those who want a complete and tasty meal, but fast.
What did you think of the recipes? Now you know how to cook quinoa and where to use it in everyday meals. Also check out the recipes with chia for a healthier diet.