One of the most loved dishes by Brazilians, the combination of Beef stroganoff and straw potato, is part of the taste of Brazil. Today you are going to learn a super simple recipe, which makes the meat very tender and with a very well seasoned sauce.
In addition, being a super fast recipe, it ends up being consumed a lot. Here we have already taught you how to make chicken stronogoff, which is also a very popular recipe.
Check below the recipe for the best beef Stroganoff: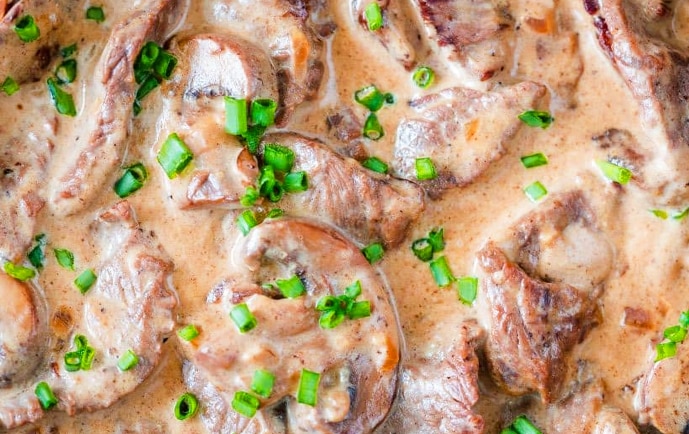 Beef Stroganoff – Recipe
Ingredients:
500 grams of filet mignon or rump
20 ml of oil
salt to taste
100 grams of paris mushrooms
100 grams onion
10 ml oil
30 grams of tomato paste
40 grams of ketchup
150 ml of fresh cream
salt to taste
40 grams of wheat flour (if necessary)
Preparation mode:
First, cut the meat into strips (5 cm x 2 cm), transfer to a bowl and season with garlic, oil and salt.
Also, keep at room temperature (the meat must not be cold when browned) and set aside.
On a cutting board, cut the paris mushrooms into 3 slices and set aside (if you prefer, you can use pickled mushrooms, but the result will not be the same). Peel and finely chop the onion and garlic. Then, bring to medium heat, a medium saucepan.
When it heats up, drizzle with olive oil and brown the strips of meat little by little (if you add them all at the same time, they will release liquid and steam, instead of browning).
Turn with tongs to brown evenly, then transfer the golden strips to a bowl. Brown the rest, watering the pan with a little oil before each batch.
Decrease the heat in the pan and drizzle again with the oil. Add the onion and saute until wilted (about 3 minutes), scraping the bottom of the pan well (the "burnts" of the meat are essential to flavor the preparation.
Add the garlic and stir for just 1 minute to flavor, add the tomato paste, ketchup, brandy and mix well.
Add mushrooms and mix. Drizzle with heavy cream, season with salt and pepper, then mix well and cook over medium heat.
Once it starts to boil, cook for another 15 minutes, stirring periodically, until the sauce thickens. That way your beef stroganoff will have a very thick sauce.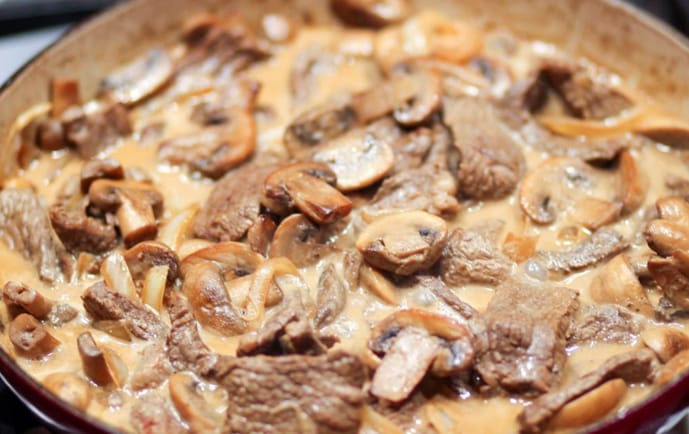 Finally, turn off the heat, let the beef stroganoff cool and serve