How to make puff pastry: complete step by step


180 min



6 servings
The puff pastry recipe will win your heart and once you learn how to make it, you won't want to stop! A homemade puff pastry goes well at any time of the day, and with a little coffee to go with it, it's perfect!
If you want to know how to make puff pastry just follow the complete step by step that we have prepared for you!
Ingredients
500g of Famiglia Venturelli wheat flour
1 cup of cold water
500g butter (at room temperature)
1 pinch of salt
Method of preparation
Pour the flour and salt into a large bowl. Open a hole in the middle, like a volcano. If you have a planetary mixer, use it to prepare this recipe, it will be easier.
Pour the water into the hole in the center and, using your hands, mix the flour with the water in a circular motion, from the inside to the outside. When you get a compact and smooth dough, set it aside. If you notice that the dough is too soft after kneading for 2 to 3 minutes, add a little more flour. If it is too dry, add a little more water.
To prepare the homemade puff pastry, the butter must be at room temperature: solid, but slightly softened. That way, it will be easier to incorporate into the dough. Cut the butter into 8 cubes of the same size. If you want to use margarine instead of butter, use it slightly chilled to achieve the same consistency as butter.
Sprinkle flour on a surface and roll out the dough in a rectangular shape with a rolling pin. Place 2 cubes of butter in the center and close, folding the two ends of the dough over the butter. Then smooth with the rolling pin, crushing the butter into the dough. Leave in the refrigerator for 30 minutes.
Take the dough out of the refrigerator and open it again in a rectangle with the help of a rolling pin. Place 2 more pieces of butter in the center of the dough, and fold as shown in the image below.
Smooth again with the roller. Repeat the same process for two more times, reserving in the refrigerator for 30 minutes between each step. It is important to repeat the process of opening the dough, adding the butter, folding and opening again, because this is what gives the puff pastry the characteristic layered appearance.
After you add all the butter to the dough, reserve the puff pastry in the refrigerator for 1 hour and it will be ready to use! If you prefer, you can freeze. To do this, wrap it tightly in plastic wrap and remember to remove it from the freezer about 1 hour before use.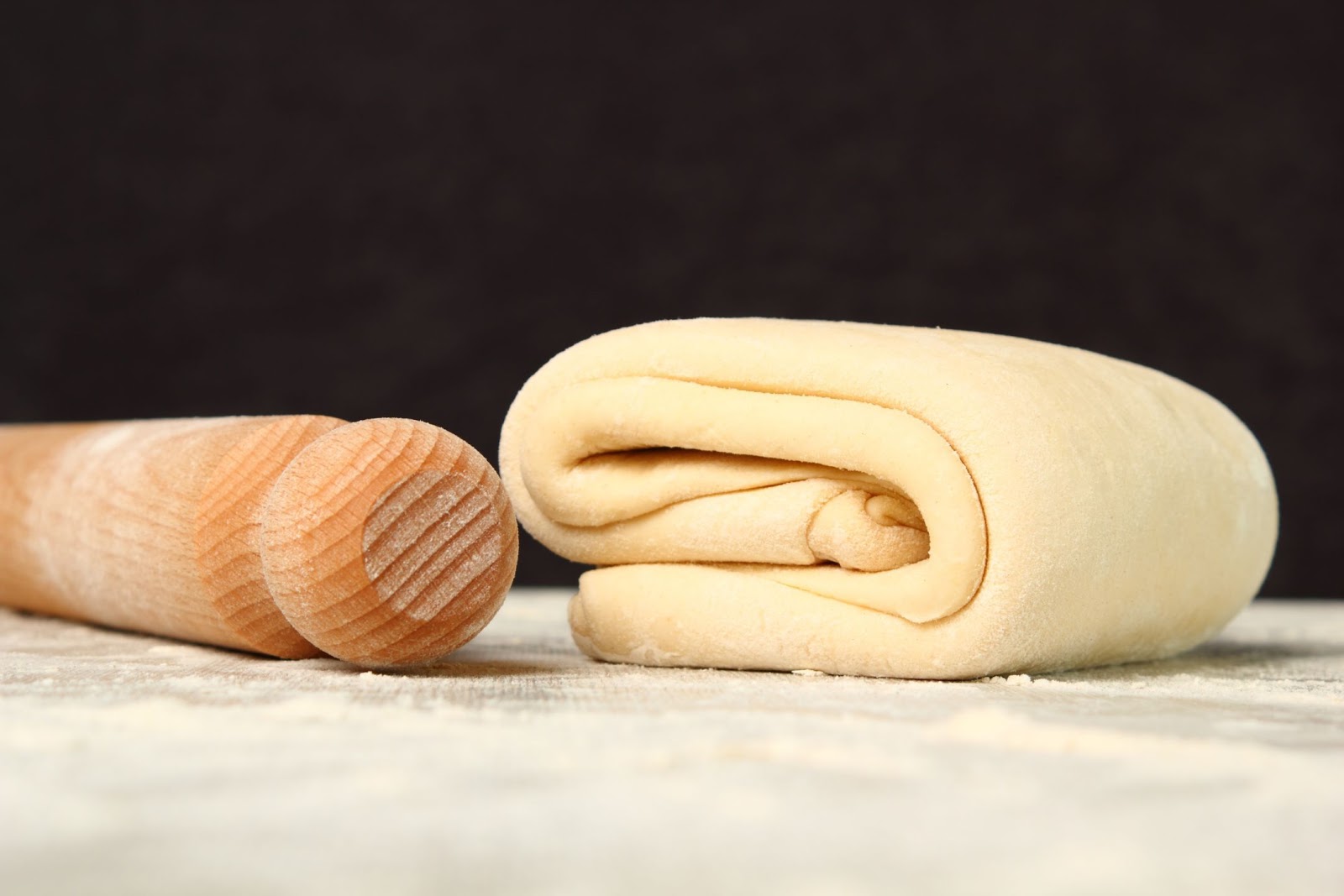 Products used