The success of the beaches has arrived here, the empadinha and shrimp is a classic. Today you will learn that empadinha that the dough melts in your mouth, with that very moist shrimp filling.
However, you will not learn just one recipe, you will learn two, you will be able to make shrimp or shrimp with palm hearts. Check out the recipes:

Shrimp Pie Recipe
Pasta Ingredients:
500 grams of wheat flour
1 cup (tea) of butter
1 egg
1/2 tablespoon of salt
2 tablespoons of ice water (approximately)
2 gems to brush
Filling Ingredients:
2 tablespoons of oil
1 chopped onion
500 grams of clean small shrimp
1 chopped seedless tomato
2 tablespoons of tomato paste
salt to taste
Method of preparation of the filling:
First, for the filling, heat a pan with the oil over medium heat and fry the onion and shrimp for 3 minutes.
Then add the tomato, extract, salt, pepper, green scent and saute for 3 minutes. Turn off and let cool.
How to prepare the dough:
Soon after, in a bowl, mix the flour, butter, egg, salt and water, kneading until it forms a homogeneous dough. If necessary, add more water.
Wrap in plastic wrap and refrigerate for 1 hour.
Roll out the dough, cut large circles with 2/3 of the dough and line the pie pans.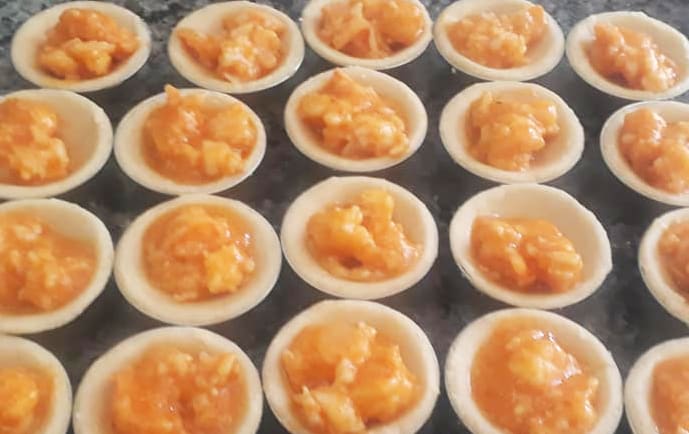 Also, divide the filling between the molds and cover with the remaining dough, pressing to close. Brush with the yolk, place them side by side in a large mold and bake in a preheated medium oven for 20 minutes or until lightly browned.
Finally, let it warm, unmold, place in paper cups and serve immediately.
Shrimp Pie Recipe with Heart of Palm
Filling Ingredients:
4 tablespoons of oil
1 chopped onion
500 grams of small shrimp
1 glass of drained and chopped palm heart (300 grams)
1 chopped seedless tomato
1/2 cup of tomato sauce
Salt, black pepper and chopped parsley to taste
1 tablespoon of wheat flour
Method of preparing the filling:
First, heat the oil in a pan over medium heat and fry the onion until it wilts.
In this way, add the prawns and fry for 5 minutes. Add the hearts of palm, tomato, sauce, salt, pepper, parsley and cook for 3 minutes. Sprinkle with flour and cook until full, stirring. Turn off and let cool.
Mounting:
Use a pasta recipe we taught you at the beginning of this post. And assemble the patties.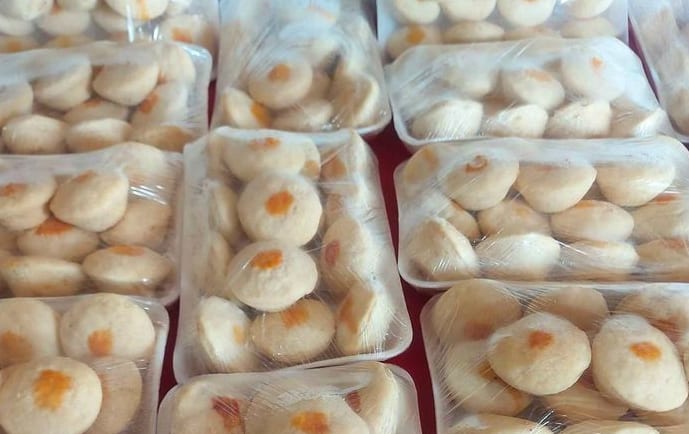 A second option is to sell frozen shrimp pies, it is a great option for sale, here on the site we also teach how to make the famous cheese pie.