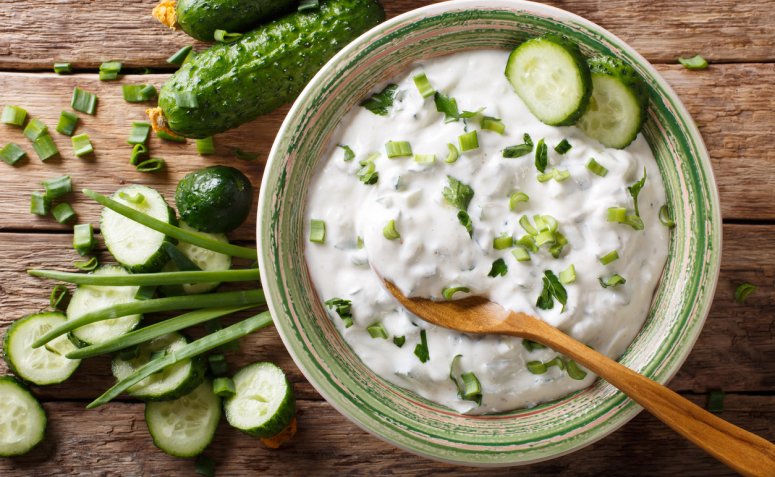 By Karyne Santiago

On 28.04.21
Recipes with natural yogurt can be sweet, salty and are super easy to make. Moreover, if used in pasta, yogurt leaves with a fluffier texture. Therefore, we separated some recipes with natural yogurt for you to test at home. Check them out!
1. Salad with natural yogurt
Ingredients
1 diced cucumber
1 diced tomato
100 g plain yogurt
2 tablespoons chopped chives
1 tablespoon chopped mint
Black pepper to taste
½ red onion, minced
Salt to taste
Directions
In a large bowl, place the cucumber and tomato;
Then add the plain yogurt and mix together;
Add the spring onion, mint, peppercorns, onion, salt and mix again;
Transfer the salad to a plate and enjoy!
2. Omelet with plain yogurt
Ingredients
4 eggs
1 pinch of dried chili pepper
Salt to taste
½ onion, minced
½ chopped green pepper
1 diced seedless tomato
150 g plain yogurt
150 g grated mozzarella cheese
150 g chopped ham
Green onion to taste
4 tablespoons wheat flour
Oil
Directions
In a bowl place the eggs, peppercorns, salt and mix lightly with a fork or whisk;
Add the onion, bell pepper, tomato, yogurt and stir well;
Finally, add the cheese, ham, parsley, and flour and mix until the ingredients are well incorporated;
In a hot, greased frying pan, pour in little by little the mixture with the eggs;
When the omelet begins to firm at the bottom, turn it over with a spatula, to cook the other side;
Remove when well browned, and taste as desired.
3. Turkish yogurt sauce
Ingredients
1 Japanese cucumber
Salt to taste
½ lemon-taiti
Parsley to taste
Mint to taste
½ garlic
Olive oil
2 whole yogurts without sugar
Allspice to taste
Black pepper to taste
Sicilian lemon zest
Directions
Peel and grate the cucumber. Place it in a container and season with salt, lemon and set aside for about 10 minutes;
Chop the parsley and mint and set aside;
Then in processor, add garlic, olive oil, process until ingredients are incorporated and set aside;
Using a sieve, remove all the water from the cucumber by squeezing it well against the braid of the sieve;
In a bowl, add the cucumber with the yogurt and stir until a paste is formed;
Season with the garlic oil, jamaica pepper, and black pepper and mix;
Finish with the parsley, mint, and zest of the Sicilian lemon and flavor as you prefer.
4. Bread of natural yogurt and oatmeal
Ingredients
1 egg
1 tablespoon natural skimmed yogurt
Pink salt to taste
1 tablespoon oat bran
1 teaspoon baking powder
Directions
In a bowl, place the egg, yogurt, salt, oat bran, yeast and mix well until smooth;
Transfer the mixture to a small greased baking pan and microwave for 1 minute and 30 seconds and it's ready!
5. Oatmeal muffin with natural yogurt
Ingredients
1 egg
150 g plain yogurt
4 tablespoons honey
½ cup oatmeal
½ tablespoon baking powder
Peanut butter
Directions
In a bowl, place the egg, yogurt, honey and mix until smooth;
Add the oat flour, the yeast and stir well;
Distribute the batter into silicone cupcake liners and fill each cupcake with a spoonful of peanut butter;
Bake in preheated oven at 180 degrees for 20 minutes and serve!
6. Fruit salad with natural yogurt
Ingredients
2 sliced bananas
Chopped strawberries to taste
1 diced apple
1 diced orange
Seedless grapes cut in half
1 kiwi cut into cubes
340 g plain yogurt
½ cup condensed milk
Directions
Wash and cut all fruits. Put them together in a container and set aside;
In another bowl, mix the yogurt with the condensed milk until it forms a homogeneous cream;
Pour the cream over the fruits, and mix delicately;
Decorate with some fruits and enjoy!
7. Fit candy with natural yogurt
Ingredients
300 g of chocolate 70% cocoa or more
300 g unsweetened natural skimmed yoghurt
50 g skimmed milk powder
Directions
Melt the chocolate in a bain-marie or in the microwave;
With the chocolate melted, add the natural yogurt and mix the ingredients well;
Add the powdered milk and beat until the mixture is creamy;
Transfer the candy to a baking dish, refrigerate for about 3 hours, and serve as desired.
8. Lemon mousse with natural yogurt
Ingredients
1 can of cream
1 can of condensed milk
170 g plain yogurt
Lemon juice powder
Directions
Place the heavy cream in the freezer for 4 hours. After this time, make two small holes in the bottom of the can and remove all the serum;
In a bowl, mix the heavy cream, condensed milk, yogurt, and lemon juice powder until smooth;
Cover the bowl with plastic wrap, leaving it in contact with the cream;
Refrigerate for 2 hours and you're done!
9. Frozen yogurt
Ingredients for frozen
340 g plain yogurt
1 box heavy cream
1 cup sugar
zest of 1 lemon
Ingredients for the syrup
1 and 1/2 cups blackberries
1/2 cup sugar
Directions
To prepare the frozen food, in a bowl mix the yogurt, heavy cream, sugar and lemon zest;
Take the cream to the freezer for about 6 hours;
Meanwhile, in a saucepan cook the blackberries for about 10 minutes;
When the blackberries are releasing liquid, add the sugar and mix. Let cook for 10 minutes more, turn off the heat and set aside;
Serve the frozen yogurt with the blackberry syrup and enjoy this delight!
10. Plain yogurt cake
Ingredients
4 eggs
170 g plain yogurt
½ teaspoon vanilla essence
210 ml oil
1 1/2 cups caster sugar
2 cups of flour
1 tablespoon baking powder
½ teaspoon cinnamon powder
Directions
In a blender, place the eggs, yogurt, vanilla essence, oil, sugar and beat everything for about 4 minutes;
Pour the mixture into a bowl and incorporate half of the flour and the yeast. Then add the rest of the flour gradually, mixing carefully;
Grease a baking pan with butter, sugar and cinnamon. Then pour the batter evenly over the pan;
Bake in a preheated oven at 180 degrees, for about 50 minutes;
Remove the cake from the pan and serve as desired.
With so many delicious natural yogurt recipes, it's hard to choose which one to make first, isn't it? And if you want to enjoy more recipes with different ingredients, check out these innovative supernutritious chia recipes.