The caramelized Pineapple Cake is a classic, it is one of those old recipes that are in our memory, today you will be able to make it at home.
That inverted pineapple cake it seems complicated to make, but throughout the recipe you will see how simple it is to make the invested pineapple cake.
The juices of the caramelized pineapple penetrate the cake, adding even more delicious flavor and texture.
So, in addition to being a beautiful cake, the inverted pineapple cake has a caramelized syrup that is delicious. Everyone loves it.
Caramelized Pineapple Cake Recipe (inverted)
Topping ingredients:
1 pineapple (use enough to cover the bottom of your pan)
200 grams of sugar (1 cup of tea)
80 ml of water (1 cup of tea)
cherry to decorate
Pasta ingredients:
360 grams of wheat flour (3 cups of tea)
300 grams of sugar (1 + ½ cup of tea)
03 eggs
180 ml of milk (¾ cup of tea)
10 ml of vanilla essence (2 teaspoons)
15 grams of baking powder (1 + ½ tablespoons)
80 grams of margarine (2 tablespoons)
How to prepare pineapple syrup:
Now, let's pour the sugar and let it melt until it turns caramel. Pour the water into the pan and mix until the syrup is more fluid.
Finally, pour the syrup into the bottom of the pan and cover with a layer of pineapple slices all over the bottom and pour the rest of the syrup over the pineapple and set aside.
How to prepare the dough:
In the mixer bowl, we will then add sugar, eggs, vanilla essence and margarine. We will beat everything for 5 minutes.
Now, let's add the milk and beat some more, so let's add the Wheat Flour until the dough is homogeneous.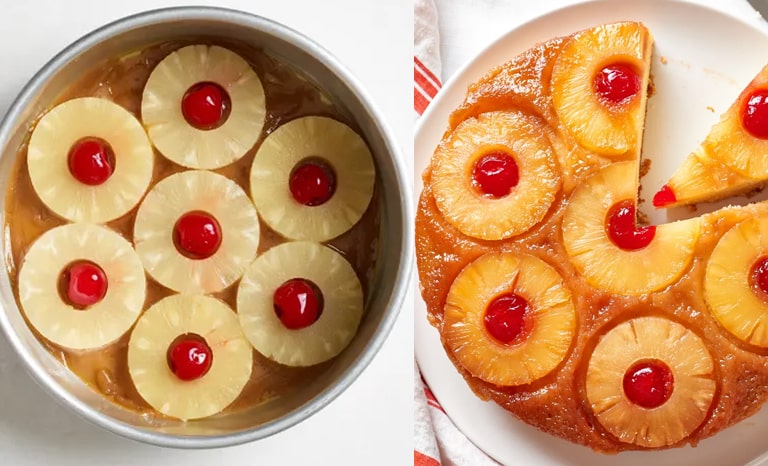 Now, pour the dough over the shape of the pineapples.
Finally, take it to bake in a medium oven (180 °) preheated for 35 to 40 minutes or do the knife test, inserting the knife in the center of the cake if it comes out clean and ready.
Model and Size of the shape used in the inverted pineapple cake:
• Option 1- Traditional round shape 25x10cm (diameter) – 1 units (1,065 kg)
• Option 2 – Traditional round shape 20 × 5 (diameter) – 2 units (530g)
Tip for the perfect inverted cake
Unmold the cake while still warm, not too hot, always patting the pan before turning the pan to ensure that it is completely loose before turning, after turning it gently lift the pan until it loosens.
That way, you can unmold the cake without it breaking.