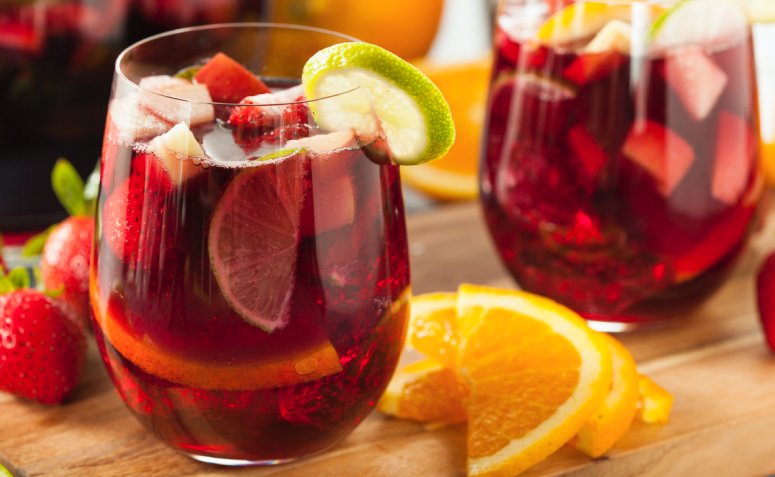 By Heloisa Keiko

On 09.03.21
Elegant and delicious, these drinks with wine are ideal for those who want to get out of the sameness without giving up the taste of one of the most beloved drinks. Best of all, the recipes are super versatile. Choose your favorite and discover an even more delicious way to enjoy a good wine!
1. Tonic wine
Ingredients
100 ml dry white wine
200 ml tonic water
1 slice of lemon
Ice
Juniper
Hibiscus
Directions
Put the ice in the cup;
Then include the wine and tonic water;
Add the lemon slice, juniper and hibiscus;
Stir well with a spoon and enjoy!
2. Drink with wine and Schweppes
Ingredients
100 ml dry red wine
100 ml of Schweppes citrus
1 slice of Sicilian lemon
Ice
Directions
In a glass, put plenty of ice;
Add the wine and Schweppes and mix;
Finish with a slice of Sicilian lemon;
After that, just savor it!
3. Caipirinha of wine
Ingredients
2 lemons
1 tablespoon granulated sugar
100 ml soft red wine
Ice
Directions
Squeeze the juice of one lemon into a glass;
Cut the other lemon in half, and then slice a slice of the fruit;
Then cut the remaining lemon into cubes, removing the white parts of the rind;
Place the lemon cubes in the glass and include ice, sugar and wine;
Mix everything together and finish by garnishing with the lemon slice;
Taste!
4. Spanish drink
Ingredients
200 ml pineapple juice
150 ml of soft red wine
50 ml condensed milk
75 ml of vodka
Ice
Directions
In a cocktail shaker, place ice, pineapple juice, wine, condensed milk and vodka;
Cover the cocktail shaker and whisk the drink;
Sift and serve in a glass decorated with a piece of pineapple;
Then, just enjoy!
5. Drink with white wine and passion fruit
Ingredients
1/2 cup chopped pineapple
500 ml soft white wine
1 box condensed milk
Pulp of 4 passion fruits
Ice
Directions
Reserve 1 tablespoon of passion fruit pulp for decoration;
In a blender, add the ice, pineapple, wine, condensed milk and remaining passion fruit pulp;
Beat these ingredients for about 2 minutes;
Serve in glasses with ice and garnish with a little passion fruit pulp on top;
Taste!
6. Drink with white wine and pears
Ingredients
3 pear slices
50 ml gin
35 ml peach liqueur
100 ml white wine
5 basil leaves
Ice
Rosemary
Directions
In a glass, place the ice and the pear slices;
Add gin, peach liqueur and wine, then mix thoroughly;
Finish by including the rosemary and basil;
Serve chilled!
7. Drink rockin' red
Ingredients
50 ml of tequila
50 ml of light red wine
30 ml of Cointreau
30 ml strawberry syrup
10 ml lemon juice
Ice
Mint
Directions
In a cocktail shaker, add the tequila, wine, Cointreau, strawberry syrup, lime juice, ice and mint;
Cover with a glass and beat well;
When serving time, prepare a glass with ice and strain the drink with a sieve;
Finish by garnishing with a sprig of mint;
Enjoy!
8. Rosé wine clericot
Ingredients
10 grapes
2 sliced carambolas
1 sliced plum
1 sliced peach
1 sliced orange
10 blackberries
2 cinnamon sticks
200 ml orange juice
1 bottle of rosé wine
Ice
Directions
Place all the fruits in a jar;
Add the cinnamon stick, orange juice and wine and stir well;
Serve in a glass with plenty of ice;
Then, just enjoy with friends!
9. Sangria
Continued after the announcement
Ingredients
3 apples
3 strawberries
1 orange
1 Sicilian lemon
1taiti lemon
3 peaches
2 tablespoons sugar
Juice of 3 oranges
1 bottle of dry red wine
Directions
Cut the apples and strawberries into cubes;
Then slice the orange and lemons into rounds;
Chop the peaches into cubes, mix with the sugar in a bowl and mash with a macerator;
Put everything into a pitcher, add the orange juice, and finish with the wine;
Stir it all with a spoon and refrigerate for a few hours;
Serve chilled!
10. Hot wine drink
Ingredients
1/2 cup sugar
500 ml red wine
1 chopped apple
Cinnamon bark
Clove
Directions
In a saucepan, add the water and sugar and cook, stirring constantly, until smooth;
Add the wine and cook over low heat, without boiling;
Include the cinnamon, cloves and apple and stir well;
Cook until very hot;
When it's at the temperature you want, serve with a ladle and enjoy!
To choose the ideal bottle to prepare these drinks, be sure to check our wine guide for beginners and make the recipes even more delicious!