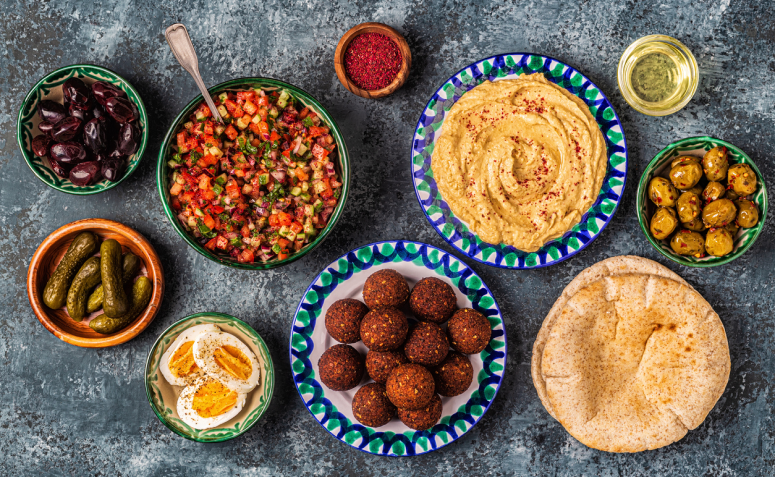 If you love to venture into dishes from other cultures, it's worth checking out Arabic food recipes. In the following list, you can find options for snack time, starter, main course, side dish and also dessert. All of them are perfect to vary the menu.
1. tabouleh
Ingredients
250 g of wheat for kibbeh
370 ml boiling water
2 medium purple onions
2 tomatoes
1 red pepper
1 green pepper
3 tablespoons scallion
1 tablespoon mint
1 tablespoon coriander
3 cloves garlic
½ tablespoon Syrian pepper
Salt to taste
Vinegar to taste
½ cup olive oil
Directions
Put the kebab wheat in a bowl. Cover with water, mix. Set aside;
Cut onion, tomatoes and peppers into small cubes;
Then chop the spring onion, mint, cilantro, and garlic;
Mix all the chopped ingredients and also the hydrated kebab wheat;
Season with Syrian pepper, salt, vinegar and olive oil. Stir;
Garnish with a drizzle of olive oil and mint leaves;
Preferably let the dish rest overnight in the refrigerator.
2. Falafel
Ingredients
500 g chickpeas
1 onion
1 clove garlic
½ cup parsley
1 teaspoon cayenne pepper
½ teaspoon ground cumin
½ teaspoon cardamom
½ teaspoon coriander powder
1 teaspoon salt
½ teaspoon baking powder
1 ½ tablespoon wheat flour (optional)
Oil
Directions
Place the chickpeas in a bowl and cover with water. Let it rest in the refrigerator overnight;
Drain the chickpeas and transfer them to a food processor;
Add the coarsely chopped onion, garlic, parsley, pepper, cumin, cardamom, coriander, salt and yeast. Grind;
If the texture becomes too wet, add up to 1 ½ tablespoons of flour;
Use two spoons to shape the dumplings;
Fry over medium heat in a skillet with 2 to 3 fingers of hot oil;
When the dumplings are browned, just place them in a container with paper towels.
3. Homus
Ingredients
400 g cooked chickpeas
2 cloves garlic
4 tablespoons tahine
½ teaspoon cumin
6 tablespoon olive oil
1 lemon
Directions
Blend on high speed the chickpeas with the garlic cloves without the sprouts, tahine, cumin and olive oil;
To finish, add the lemon juice and blend some more.
4. Grape leaf cigar
Ingredients
1 cup raw rice
Grape leaves
500 g ground meat
½ onion, chopped
Mint to taste
Parsley to taste
Black pepper to taste
Salt to taste
Syrian pepper to taste
Sliced tomatoes to taste
Onion slices to taste
Olive oil to taste
Lemon to taste
Directions
Place the rice in a bowl covered with water. Let it rest for 1 hour. Then drain;
Boil water in a saucepan. Add the grape leaves and cook for 1 minute. Remove from the pan and set aside;
Place in a bowl the rice, ground beef, chopped onion, mint, parsley, black pepper, salt and allspice. Mix together;
Make a long dumpling with the above mixture, place in the middle of a grape leaf. Roll the leaf over the filling;
Repeat the process until all the filling is used;
Line the bottom of a pan with tomato and onion slices. Place the cigars on top;
Squeeze lightly with your hands. Season with more salt, Syrian pepper and olive oil;
Cover with water, cover the pan and cook for 30 minutes;
Serve with lemon.
5. Raw Kibbeh
Ingredients
Wheat for kebab
Water at room temperature
Black peppercorns in grains
White peppercorns, black peppercorns
Allspice in grains
Coriander seeds
Cumin
Cinnamon stick
Lean ground meat
Salt
Olive oil
Sweet Paprika
Onion pickle
Green leaves
Dried curd
Syrian bread
Radish
Directions
Place the buckwheat in a bowl. Add enough water to stay one finger above the wheat. Set aside;
Turn on a skillet over low heat. Add, to taste, the black peppercorns, white peppercorns, allspice, coriander seeds and cinnamon. Allow the aromas to release;
Process the spices until they are very fine;
Mix in a bowl the ground meat, some of the squeezed kebab, salt, the seasoning made above;
Put the rest of the squeezed kebab wheat in a pan to dry;
Add olive oil to kebab and mix again. Place in refrigerator;
Add olive oil to kibbee wheat. Add a pinch of salt;
Season the kebab with paprika. Add the crispy wheat. Stir;
Shape the kebab into the shape you desire. Use the back of a knife to make decorative scratches;
Serve with pickled onions, leafy greens, dry curd, Syrian bread, and radish.
6. Kafta
Ingredients
400 g of chuck, ground twice
15 g onion cream
7 g garlic and salt seasoning
1 dash of vinegar
1 drizzle of olive oil
Black pepper to taste
Chorizo to taste
Mozzarella in pieces
Lemon pepper to taste
4 wooden barbecue skewers
4 plastic bags of ice cream
Directions
In a bowl, mix the meat, onion cream, garlic and salt seasoning. Add the vinegar, olive oil, black pepper and the parsley;
Separate the meat into four parts: two of 120 g and two of 100 g;
Cut a thick strip of mozzarella. Stab one side with a toothpick in one direction and the other side with a toothpick in another direction. Cut vertically;
Cut off the shavings from the cheese sticks so that they are very straight;
Dip fingers in water, run through cheese. Season with lemon pepper and place in freezer. Wait for it to freeze;
Crumple the meatballs and toss them from one hand to the other to remove excess air;
Place a funnel in an ice cream bag. Add one of the larger portions of meat into the bag, using the handle of a wooden spoon to assist you;
Roll the meat from side to side to make it into a roll shape. Insert a skewer;
Repeat the process with the other larger portion of meat;
In that of cheese, follow step by step to add the meat to the baggie. Then tap it with your hands so that it is flattened;
Add the cheese stick and wrap the meat over it;
Repeat the process with the remaining meat and cheese. Freeze the kaftas;
Remove the plastic wrap. Bake on a grill on the barbecue.
7. Syrian bread
Ingredients
500 g wheat flour
5 g dry biological yeast
3 tablespoons of sugar
3 tablespoons olive oil
300 ml water
2 pinches of salt
Directions
In a bowl, mix the flour and the yeast. Add the sugar, oil, water and salt. Stir;
Transfer the dough to a floured countertop. Knead for 5 to 10 minutes. It should be smooth and loosen from the hands;
Make a ball out of the dough. Return it to the bowl and cover it with a tea towel. Let it rest until it doubles in size;
Cut the dough into eight equal pieces. Make small balls. Let them rest for 15 minutes;
Stretch each ball with the aid of a roller. Use a little flour to make the work easier;
Use a bowl or cutter to make the shape of the bread round;
Bake in preheated oven over high heat for 5 minutes.
8. Arabian rice
Ingredients
1 piece of muscle
Salt
Syrian Seasoning
Cinnamon
1 dash of olive oil
Hot water
1 large eggplant
3 cups of rice
2 onions
Wheat flour
Black pepper
1 l oil
Butter
Chestnuts
Directions
Cut the meat into cubes. Season with salt, Syrian seasoning and cinnamon;
Add olive oil to a pressure cooker. Add meat. Brown it on one side, turn it over and brown the other side;
Add hot water until meat is covered. Pressure cook for 25 minutes;
Cut the eggplant into large cubes. Place in a pan with olive oil. Season with salt;
Saute the rice in the pan with the eggplant. Add the Syrian seasoning. Set aside;
Cut one onion into strips. Stuff it in wheat flour seasoned with black pepper;
Place the breaded onion in a colander. Whisk to remove excess flour;
Deep-fry in oil over 180 degrees C until golden brown. Set aside;
Add to the pan with rice and eggplant the other chopped onion, salt, cinnamon and olive oil. Saute;
Add the meat, mix. Add water. When water boils, cover half the pot. When water dries out, see if more water is needed;
In a frying pan, add the olive oil and butter. Wait for it to melt and add the chopped chestnuts;
When the rice is nearly cooked, cover the pan and put it in the oven off for 10 minutes;
Unmold the rice on a plate. Finish with the chestnuts and the fried onion.
9. Opened Sfiha
Ingredients
Stuffing
500 g ground meat
500 g chopped onion
500 g chopped tomatoes
Salt to taste
2 cloves crushed garlic
½ cup pomegranate syrup or 1 tablespoon pomegranate molasses
2 lemons
1 teaspoon Syrian pepper
Pasta
300 ml warm milk
300 ml warm water
60 g fresh yeast or 20 g dry yeast
1 kg wheat flour type 1
50 g granulated sugar
100 g olive oil or oil
20 g salt
Directions
Filling
Mix together in a bowl the meat, onion and tomato. Set aside while you make the pasta;
Place the ground beef in a colander. Squeeze it with your hands to remove all the water;
Return the meat to the bowl. Season with salt, garlic, pomegranate syrup, juice of the lemons and Syrian pepper;
Transfer the meat to the colander. Let the water drain off.
Pasta
Add in a bowl the milk, water and yeast. Mix until the yeast dissolves;
Next, incorporate sugar and ⅓ of the flour. Cover the bowl and let it rest for 15 minutes;
Gradually add flour. Add olive oil and salt. Mix together;
Transfer dough to a countertop and knead for approximately 7 minutes. Let the dough rest for 15 minutes;
Cut the dough into four equal pieces. Roll the dough back and forth. Cut into pieces of approximately 30 g each;
Place these pieces on a baking sheet. Let rest. Repeat the process with the other three pieces of dough;
Add a little meat over one piece of cut dough that is in the pan. Squeeze the filling to shape the dough;
Repeat the process with all dough and filling. This is a recipe that yields approximately 50 esfihas;
Bake in preheated oven at 250º C for 20 minutes.
10. Baklava
Ingredients
50 g honey
500 g sugar
1 cup water
Orange peel
2 cinnamon sticks
Lemon
350 of walnuts
150 g almonds
Cinnamon powder
1 pack of filo pastry
200 g melted butter
Directions
Mix in a saucepan the honey, 300 g of sugar, the water, the orange peel, the cinnamon sticks and a few drops of lemon. Cook over low heat for 10 minutes. Set aside;
Place the walnuts and almonds in a plastic bag. Cover with a tea towel. Beat with a rolling pin to crush the oilseeds;
Transfer them to a bowl, add the remaining sugar and cinnamon powder. Mix together;
Cut 7 pieces of dough the size of the pan you are going to use. Make a layer of butter, one of dough, another of butter and one of the oilseed meal. Repeat 7 times;
Make square-shaped cuts all the way to the bottom of the pan. Then cut the squares into triangles;
Bake in medium oven for 40 minutes or until dough is golden brown;
Cover with the syrup. Let rest overnight before serving.
See how many incredible recipes of Arabic food for you to test at home? And to go with it, how about preparing a delicious guava juice, which is full of benefits?