This recipe is one that has the flavor of childhood. The pet candy is quite common at children's parties. It is a strawberry-flavored candy topped with a layer of crystal sugar. Quite common to find this sweet on party tables.
In addition, in some cities it can also be known as sweet strawberry strawberry, but in Brazil the name that became more popular was sweetie bicho de pé. Already save this recipe to make, because I'm sure you'll love it.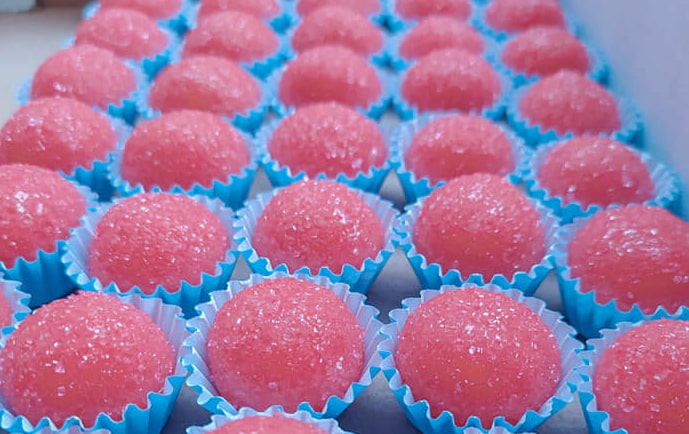 Sweetie recipe
Ingredients:
1 can of condensed milk (395 grams)
4 tablespoons of Nesquik (strawberry chocolate)
1 tablespoon of butter (preferably unsalted)
Crystal or refined sugar for rolling
Preparation mode:
First, put all ingredients (minus sugar) in a pan, mix.
Then, bring to low heat, stirring constantly until it comes off the bottom of the pan. Use a thick-bottomed pan so you don't risk burning.
When it comes off the bottom of the pan, that's the point.
Allow to cool at room temperature for 5 hours or in the refrigerator for 2 hours. After this rest time you can roll it up and pass it on the crystal sugar.
If you want to add more color, you can use a few drops of gel dye. But use a few drops, as too much coloring can cause bitterness. You can also use another strawberry chocolate drink, use the brand you like best.
This sweetie recipe is super traditional, it has a great outlet for sales, so you can make it at home, for a family party, or you can also make it to sell. To make 100 sweets you will need to make 2-3 recipes.
Another very popular candy is the powdered milk candy, so if you want, you can, instead of passing it on the crystal sugar, you can pass it on the powdered milk.