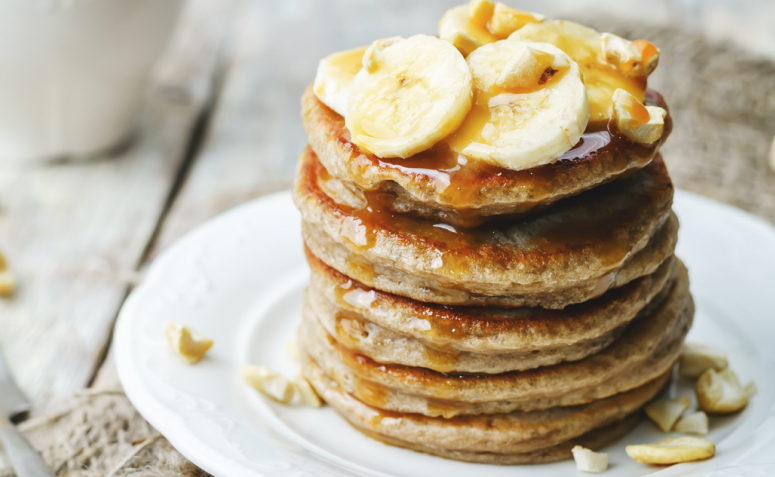 The whole pancake is an extremely versatile dish. After all, you can make sweet and salty versions. Besides, depending on your choice, you can taste it at breakfast, at snack time and also as a main meal. So, check out the list below, which has the best recipes for you to test!
Continue after the announcement
1. Easy whole wheat pancake
This is such a basic pancake recipe, it's handmade. First, you have to beat the egg with salt, water and olive oil. Then the whole wheat flour is incorporated. To finish, just take your dough to a frying pan. Very simple, isn't it?
2. Integral fluffy pancake
This is an American style pancake, where the dough grows and looks really cute. Also, it has sugar in it, which makes it a great way to sweeten your day. See how it's prepared and enjoy the result.
3. Whole oatmeal pancake with tapioca
This recipe is synonymous with practicality, because it is made in the blender. Here, you need to beat the appliance egg whites and yolks, tapioca flour, whole oats and salt. When the texture is homogeneous, just fry your pancake and enjoy all the flavor.
4. Whole wheat pancake with flour mix
Do you like a thin pancake with a very light dough? To achieve this texture, the tip is to combine whole wheat flour and white wheat flour, being the first in greater quantity. Besides them, you will also use milk, egg, olive oil, salt and black pepper.
5. Whole pancake with flour mix
Continue after the announcement
This is another alternative for those who want to make a recipe that doesn't just take whole wheat flour. Besides it, you will also need the white wheat flour and oats. This way, you get an interesting texture and an irresistible taste.
6. Whole pancake with oat flakes
In addition to taking whole wheat flour and oat bran, this is a recipe where the milk chosen is skim milk. The other ingredients you will need are egg, salt and olive oil or coconut oil. After mixing them all and getting a smooth texture, just take it to the pan.
7. Whole pancake with skimmed milk powder
Have you ever thought about making a light, whole, oil-free pancake batter? That is the proposal of this recipe, which is still made with skimmed milk powder. To improve it even more, the blender dough guarantees practicality in the kitchen. It's worth a try.
8. Whole pancake with linseed
How about making your pancake even more nutritious? To achieve that, the tip is to add flaxseed to the dough. This is a simple ingredient that doesn't alter the taste of your dish. All this makes this a great choice to test in your home.
9. Whole pancake with chia and oatmeal
Whole wheat flour, oats, chia, skim milk, eggs, pink salt, oregano, pepper and basil are the ingredients that make up this recipe. As they are all shaken together in the blender, you will have no work to make the dough.
10. Whole-grain pancake with natural yogurt
You want to make your pasta even tastier? For that, a good suggestion is to use natural yogurt. Because of it, you don't have to add milk to the pasta, just water. Besides, chia and linseed make your dish more nutritious. Check out the complete preparation.
11. Whole oat and apple pancake
In this recipe, the oatmeal gives a slightly crispy touch to the dough. Not to mention that it goes very well with the apple. To flavor your dish, the suggestion is to add a pinch of nutmeg, which is a great alternative for those who want to leave the cinnamon aside. Learn the step by step details.
12. Whole carrot pancake with chia
Carrot in the pancake batter? That's exactly what you read! Here, the vegetable is chopped and goes straight to the blender with all the other ingredients. As a result, you get a light, functional dish with a distinct taste.
13. Whole rice pancake
Is there any brown rice left over from the last meal? Then put it to new use by testing this recipe. The grain should be mixed with egg, whole wheat flour, parsley and chia. Then, just grease a baking pan with olive oil and mold the pancakes into it, with the help of a spoon, and take it to the oven to bake.
14. Whole spinach pancake
If you like to avoid waste, this recipe is perfect for you. That's because it's the spinach stems that are used to make the pancake dough. So, you know, right? When you go to use the leaves, you don't have to discard the stems. Now, watch the way I prepare them.
15. Whole banana fit pancake
Continue after the announcement
How about trying a vegan recipe, that is, one that doesn't carry ingredients of animal origin? To add to the dough, a mixture of chia and water is made. Also, the milk used is vegetable. And there's more: the pasta is flavoured with cinnamon, a spice that goes very well with banana.
16. Whole vegan pancake
This is a recipe that takes only four ingredients: whole wheat flour, oat flour, water and olive oil. The dough, which is made in a blender, has a very light texture.
17. Gluten and vegan-free wholemeal pancake
Want to use as few ingredients as possible? Then, there's more to check this option, which is made only with wheat flour, water and, optionally, salt. After mixing the ingredients, just take the dough to the pan.
18. American Whole Pancake
The last recipe on the list gets a very soft texture. The preparation begins by mixing wheat flour, oat flour, xylitol, baking powder and salt. Then, the liquids come into play: egg, milk, olive oil and vanilla essence. Then, just take the dough to a frying pan heated with a thread of olive oil.
After seeing all these full pancake options, it becomes the difficult task of choosing which to test first. While you're at it, how about taking a look at cauliflower pizza recipes? Another healthy alternative to add to your menu.