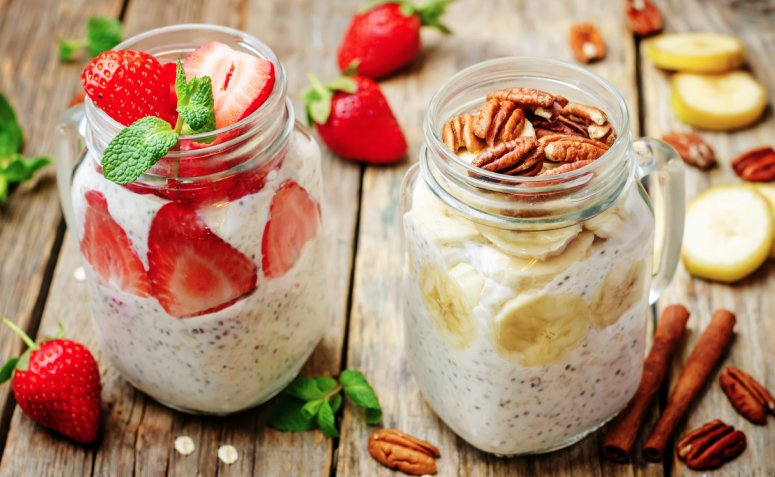 The overnight oats is an easy and very tasty option for those who want to keep a healthy diet and have practicality. We talked with nutritionist Izabella Imianovsky (CRN10 5729 – SC) to explain all the benefits of this recipe. Read on and find out what they are!
Continue after the announcement
What is overnight oats
According to Izabella, « the overnight oats is an oatmeal made with seeds and fruits, which is in the consistency of a pudding. The name overnight oats comes from English, which refers to the way of preparation, which is to leave the oats resting in the milk at night in a pot, preferably made of glass, so that it becomes creamy and consistent.
The nutritionist also comments that « it is possible to adapt the recipe using coconut milk and yoghurt and also use chia or flaxseed in addition to oats. Fruits and seeds may vary, but the tip is to combine sweet fruits with more sour fruits. These combinations make the meal versatile, delicious and supernutritive ».
5 benefits of overnight oats to be healthier
Nutritionist Izabella also told us about the health benefits this recipe brings. Next, check them all out:
Regulates the intestine: « because it is a preparation with many soluble and insoluble fibers, it helps in the formation and consistency of the fecal cake. With this, it helps to regulate intestinal transit. But remember: to enjoy this benefit, it is important to have the ideal daily consumption of water ».
It gives satiety: « the fibers used form a gel in the stomach, especially when we use hydrated chia. This provides a slower chewing and, consequently, offers more satiety ».
It lowers cholesterol: « The fibers present in this recipe, especially oats, which contain betaglucan, act as a 'broom', reducing the absorption of bile acids, which is the raw material for the production of cholesterol in the body.
Helps you lose weight: « within a healthy and balanced diet, it is a meal that contributes to this goal by providing plenty of satiety ».
Practicality: « For those who get organized and manage to leave it ready, overnight serves as a practical option for both breakfast and afternoon. That's because inside the refrigerator, in a well covered glass jar, it lasts up to three days, » concludes the nutritionist.
Have you seen how many benefits you can include this recipe in your everyday life? In the next topic, check out different ways to prepare it!
10 overnight oats recipes for practical and nutritious snacks
Now that you know what overnight oats is, we have brought you several recipes with tips for you to test there in your home. Keep up!
1. Overnight simple oats
Here, you will check the preparation of several overnights. Because it's a versatile recipe, you can use and abuse creativity to make the combinations, without forgetting the benefits of each ingredient used. Watch the video and learn more about the preparation!
Continue after the announcement
2. Overnight oats with vegan fruits
In this recipe, you will check the preparation of an overnight vegan. It yields 300 ml and, as a fruit suggestion, blueberry, strawberry and kiwi were used in one and banana, mango and coconut in another. Prepare the overnight by making layers of hydrated chia, fruit and oats until you fill the pot and take it to the fridge for 8 hours.
3. Overnight oats with honey
Learn four different overnight oats recipes. The basic ingredients are milk, oat flakes, chia and honey. The video shows the variations of fruits and seeds used to make four little pots and have super-practical meals.
4. Overnight oats with whey
Do you train? Do you have whey protein on your daily menu? Then you'll love to check out the preparation of this overnight: just use the milk of your choice, three tablespoons of whey, one tablespoon of oats and the fruit you like best.
5. Overnight with jelly
If you are a jelly fan, you need to check the proposal of this recipe, which is to add sugar-free jelly to overnight oats. The tip of this recipe is to use granola to give a different contrast to the preparation. Check out more details in the video!
6. Overnight oats with plums
How about adding plums to your overnight oats? The plum contains vitamins of the B, A, C and K complex, as well as minerals such as potassium, iron, calcium and zinc. It is an excellent fruit for health and brings a different and delicious taste to the recipe. Try it!
Continue after the announcement
7. Overnight oats with Greek yoghurt
In addition to milk, you can also use Greek yogurt to make this snack. In the video, you check all the ingredients and fruit suggestions used. The recipe yields a glass jar about the size of a can and can stay in the refrigerator for up to 2 days.
8. Overnight oats with natural yogurt
Here, you will learn three suggestions of overnight oats that, besides milk, also use natural yogurt in their preparation. For the combination of fruits, there is no rule, so use your creativity to prepare your next breakfast!
9. Overnight oats with quark cheese
Another option for you to vary the ingredients of the overnight base is to use quark cheese. In this video, you will check options of combinations to insert this recipe in your day by day and not get sick. See all the details on how to prepare it!
10. Overnight oats with chestnut paste
To close, we brought a different option to prepare this delight: using chestnut paste or replacing it with peanut paste. So, you have a snack that tastes different and is still very nutritious and tasty. Write down the ingredients and enjoy!
Did you like to learn about overnight? Then it's time to choose a recipe and include it in your everyday life. If you liked this tip, find out more options to have a healthy breakfast!